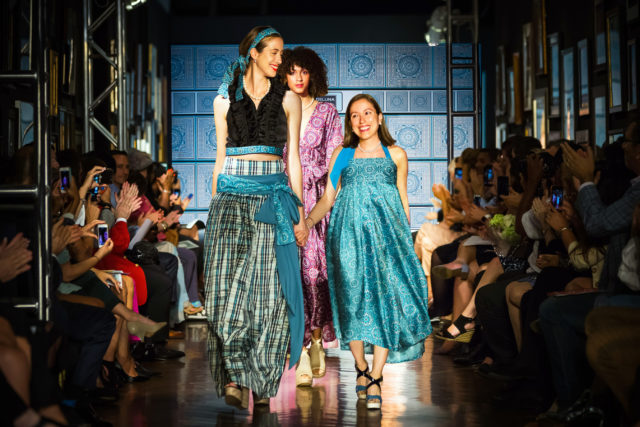 Marisol Deluna presented her Spring/Summer 2018 womenswear collection at The National Arts Club on Gramercy Park in Manhattan.  The New York Fashion Week event on September 8th marked 20 years for the Marisol Deluna New York label.
Deluna's new collection of apparel and accessories showcases her vibrant and intricate signature prints which are silkscreened by hand.  She continues to distinguish herself by adhering to old-school design and production methods.  Her contemporary lifestyle brand embodies the spirit of preppy boho-chic and highlights her "New York Designed.  Texas Made." initiative.  More than 50 day-to-evening looks appeared on the runway.
When asked about her initiative, Deluna commented, "It makes perfect sense to me to create a collection primarily manufactured in Texas.  This offers opportunities for others where I grew up, which adds more meaning to my New York designs."
"New York Dandy" and fashion icon Patrick McDonald commented on the show, saying "Marisol Deluna's Spring/Summer 2018 Collection is a fresh take on classic sophisticated looks!"
Designer David Hart stated, "The Marisol Deluna girl will be extremely pleased with any of the hand silkscreened textiles that almost seem to float in the air.  It's no wonder Marisol has 20 years of iconic work."
Fashion historian Cameron Silver has referred to Marisol Deluna as the "21st Century Lilly Pulitzer" due to her distinctive signature prints.
Also in attendance, milliner Rod Keenan said, "From the Girl Scouts of the USA to the City of New York, to a scarf presented to HM Queen Elizabeth II and now this runway collection- Marisol Deluna, never fails to surprise and amaze."