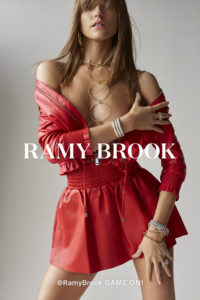 Ramy Brook, the advanced contemporary womenswear brand, announced that supermodel Martha Hunt has partnered with the brand for a year-long program which includes two national ad campaigns, a capsule collection and multiple events.
The first campaign, which centers on the Spring and Summer 2018 collections, was conceptualized and shot by photographer Sebastian Faena and Art Director Jim Kaemmerling. The campaign, released today, will be distributed via digital media, in-store, social media and through various strategic partnerships.
The Ramy Brook collection's bright colors and slinky silhouettes were accentuated by Martha's positive vibe. Founder Ramy Brook Sharp states, "Ramy Brook is a celebration of women and their beauty in every way. We are so proud to have Martha represent Ramy Brook; she is the epitome of our motto of "happy, sexy, strong." She is such a joy to collaborate with and is just as beautiful on the inside as she is on the outside."
Says Martha, "I fell in love with Ramy Brook Sharp, we hit it off immediately. She is such a nice, fun person who is a strong businesswoman that seeks to inspire others, and I am all about girl power. Plus, she designs beautiful clothes in great, luxurious fabrics that I can't get enough of."
Ramy and Martha will celebrate the campaign with an appearance at Saks Fifth Avenue in March. Additionally, the capsule collection, curated by Martha and sold exclusively at Bloomingdale's, will debut in March. More details to follow.