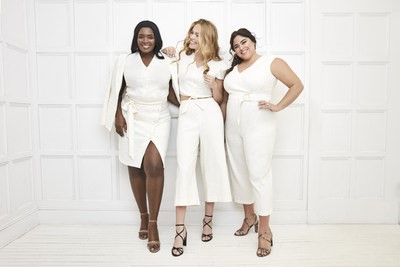 Today, reality TV star and Body Positivity Activist Roxy Earle and leading Canadian retailer LE CHÂTEAU changed the Fashion sizing game with the launch of their first joint Collection. The first of three inclusive collections to launch this year, the line enables more women of different shapes and sizes to shop the same rack at the same store!
Designed to empower all women to re-invent and modernize the sizing conversation, the Collection aims to create a shopping experience that is not only accessible, but also enjoyable. Roxy is bringing her #MySizeRox movement to life following the overwhelming response she received from women globally.
Featuring sizes ranging from 0-22W, the pre-order is available online today, with in-store availability on June 16th. The Collection features more than 40 unique clothing designs and 18 different styles of accessories ranging from footwear to handbags, and more.
"The Roxy Earle x LE CHÂTEAU Collection is so much more than a clothing line – it's our chance to inspire and create change," said Roxy Earle, Collaborating Creative Director of the Roxy Earle x LE CHÂTEAU Collection. "It's taken me a long time to realize that #MySizeRox and my hope is the Collection makes all women realize that theirs does too. I am incredibly excited to bring my unique aesthetic and love for glamour to my collaboration with LE CHÂTEAU."
The first Collection features two distinctly powerful colour palettes – a feminine blush, floral look and fearless black, red and white options. The Collection consists of jumpsuits, dresses and separates for Summer 2018.
"We are thrilled to join forces with Roxy and have the opportunity to innovate and challenge the existing retail sizing paradigm," said Franco Rocchi, Executive Vice President of LE CHÂTEAU. "Every piece was treated with love, care and attention. We had an entire team developing, tweaking and perfecting every single stitch seam, dart, gathering, fabric selection and trim to make every garment truly unique."
Several subject matter specialists were consulted to perfect the sizing and fit of the Collection, including Dr. Marie-Ève Faust, PhD in sizing, director and professor at Ecole supérieure de mode, ESG UQAM.
"I was amazed to see that they were able to create a collection and design inclusive silhouettes that are suitable for every women… I think it's going to be a real success" said Dr. Faust.
To launch the Collection in style, Roxy gathered her tribe and invited four of her social media followers who embody the #MySizeRox movement to join her in shooting her Manifesto Video.
Visit lechateau.com to watch and follow along on social at @lechateau and @luxuriousroxy.