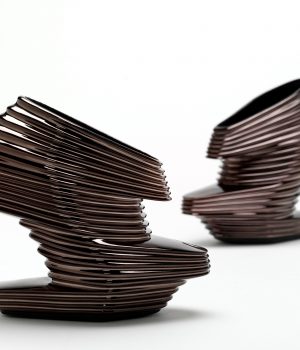 ATLANTA, Georgia —SCAD FASH Museum of Fashion + Film presents "Shoes: Pleasure and Pain," an exhibition organized by the Victoria and Albert Museum, London, that explores the creativity, cultural significance and transformative power of shoes. The exhibition displays more than 200 pairs of shoes, from ancient Egyptian slippers embellished with gold leaf and the seductive signature red soles of Christian Louboutin heels, to cutting-edge designs created by contemporary designers experimenting with new materials and the latest technology. SCAD FASH is honored to be the only southeastern venue for the exhibition.
In addition to the extraordinary range of historic footwear, "Shoes: Pleasure and Pain" features platform boots worn by Elton John, Princess Diana's shoe lasts, and David Beckham's soccer cleats. Styles by numerous celebrated designers and labels such as Manolo Blahnik, Jimmy Choo, Salvatore Ferragamo, Gucci, Yves Saint Laurent, Nike and Vivienne Westwood, as well as two iconic pairs of shoes from film history — the famous red ballet slippers from the film "The Red Shoes" (1948) and the Swarovski crystal slippers featured in Disney's "Cinderella" (2015) — are also included.
"Shoes: Pleasure and Pain" is curated around five themes: "Transformation," "Status," "Seduction," "Creation" and "Obsession." Designers' sketches, shoemaking materials and historic fashion illustrations provide a deeper understanding of the exhibition's themes. Debuting with the exhibition is "Touching the Sole," a special interactive tactile display that enables visually impaired visitors to engage with replicas of many of the shoes displayed.
"Transformation" presents a selection of shoes that are objects of myth and legend, opening with different cultural interpretations of the Cinderella story from across the globe. This section explores the concept of how shoes empower the wearer, and how such empowerment feeds into contemporary marketing for fashionable athletic footwear with modern fairy tale shoemakers, whose designs are expected to magically transform the life of the wearer.
"Status" reveals how impractical shoes have been worn to represent privileged and leisurely lifestyles and how such footwear also often dictates the way a wearer moves, is seen and even heard. Shoes on display include Indian men's shoes with extremely long toes, noisy slap-sole shoes worn in Europe during the 17th century, silk and gold-thread shoes worn by Queen Victoria and the now-infamous Vivienne Westwood blue platforms that caused supermodel Naomi Campbell to fall on the runway. "Status" also demonstrates how European shoe fashions were once mostly influenced by the royal courts, while today the focus has shifted to the taste and creations of famous shoe designers. Desirable shoes such as the "Pompadour," as worn by trendsetting women in the 18th-century French court, are presented alongside the Prada "Tail Light" sandals worn by Kylie Minogue in 2012.
Within "Seduction," the shoes on display represent an expression of sexual empowerment or a passive source of pleasure. Like feet, shoes can be objects of fetishism. Elevated Japanese geta sandals, extreme heels and tight-laced leather boots are on display, as well as examples of erotic styles offered by mainstream fashion in recent years.
The shoes in "Creation," displayed on walls and tables in a circular room staged to resemble a classic European shoemaker's workshop, examine the future of shoe design. With experiments in material and shapes, molding and plastics, the displayed footwear pushes the boundaries of possibility. Featured shoes include the form-pressed "Nova," designed by Zaha Hadid and flaunting an unsupported six-inch heel, and Andreia Chaves' "Invisible Naked" shoes, which offer a study of optical illusion created with 3-D printing and high-quality leather techniques.
"Obsession" exhibits the rarified process of the collector's passion to carefully select and acquire choice objects. On display is a variety of footwear from avid British shoe collector Lionel Ernest Bussey.
The last section of the exhibition, "Touching the Sole," uniquely enables visually-impaired visitors, youth tours, SCAD students and community members to participate and see the exhibition through tactile experience. This display challenges the conventional museum model by allowing visitors to explore and engage with the exhibition through touch. Visitors can discover remarkable and unconventional designs, such as metal armor shoes and the tiny Chinese "Lotus" shoes that concealed bound feet. Sighted visitors can even use blindfolds to experience the shoes by touch only. This unconventional engagement with the materials offers visitors a rare opportunity to interact with the shoes.
The 176-page hardcover edition of "Shoes: Pleasure and Pain," published by the Victoria and Albert Museum, London, and Harry N. Abrams, is available in the SCAD FASH boutique. Featuring extensive new photography, this is a beautiful and authoritative guide to the history and culture of footwear.
This exhibition is coordinated by Alexandra Sachs, executive director of SCAD FASH and Atlanta exhibitions and Rafael Gomes, director of fashion exhibitons.
The exhibition is free for museum members, and all SCAD students, faculty, staff with a valid SCAD Card. Open to the public with the cost of museum admission.
Exhibition organized by Victoria and Albert Museum, London
Image caption: Zaha Hadid, "Nova," rubber, fiberglass and leather using rotation-molding around an internal cantilever system, 2013. © Image Courtesy of United Nude.
SOCIAL MEDIA
SCAD FASH (#SCADFASH) is on Instagram, Twitter (@scadfash) and Facebook (SCAD FASH Museum of Fashion + Film). SCAD Museum of Art (#SCADMOA) is on Twitter, Instagram (@scadmoa) and Facebook (SCAD Museum of Art). SCAD (#SCAD) is on Twitter, Instagram (@SCADdotedu) and Facebook (SCAD — The University of Creative Careers). Paula Wallace is on Twitter and Instagram (@PaulaSWallace) and can also be found on YouTube.
ABOUT SCAD FASH MUSEUM OF FASHION + FILM
SCAD FASH Museum of Fashion + Film celebrates fashion as a universal language, garments as important conduits of identity and film as an immersive and memorable medium. Located at 1600 Peachtree St. — the nexus of the SCAD Atlanta campus — the museum focuses on the future of fashion design. Embedded within the top-ranked SCAD School of Fashion, the museum's mission and programs are fortified by the on-site expertise of nearly 30 full- time university professors devoted to the study of fashion and film. SCAD FASH connects conceptual to historical principles of dress — whether ceremonial, celebratory or casual — and its dynamic exhibitions, captivating films and educationally enriching events are open to visitors of all ages.
SCAD: THE UNIVERSITY FOR CREATIVE CAREERS
The Savannah College of Art and Design is a private, nonprofit, accredited institution conferring bachelor's and master's degrees at distinctive locations and online to prepare talented students for professional careers. SCAD offers degrees in 42 majors, as well as minors in more than 70 disciplines across its locations in Savannah and Atlanta, Georgia; Hong Kong; Lacoste, France; and online through SCAD eLearning.
With more than 32,000 alumni worldwide, SCAD demonstrates an exceptional education and unparalleled career preparation. The diverse student body, consisting of more than 12,000 students, comes from across all 50 U.S. states and more than 100 countries. Each student is nurtured and motivated by a faculty of nearly 700 professors with extraordinary academic credentials and valuable professional experience. These professors emphasize learning through individual attention in an inspiring university environment, and the innovative SCAD curriculum is enhanced by advanced, professional-level technology, equipment and learning resources.
In 2015, the prestigious Red Dot Design Rankings placed SCAD in the top four universities in the Americas and Europe. Career preparation is woven into every fiber of the university, resulting in a superior alumni employment rate. In a survey of Spring 2014 SCAD graduates, 97 percent of respondents reported being employed, pursuing further education or both within 10 months of graduation.