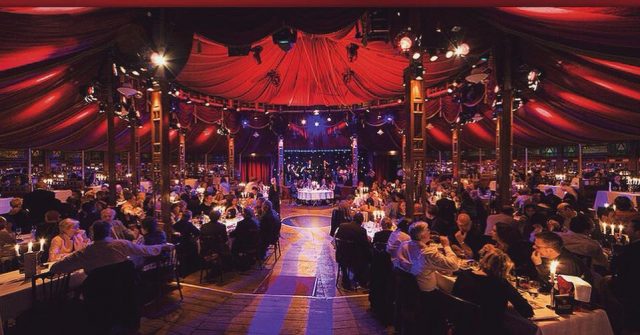 Bacio Rosso is launching Canada's first ever gourmet cabaret cirque in the city's latest production that fuses cirque, comedy and cuisine. Performed inside an antique Belgian Spiegeltent, Bacio Rosso is Moulin Rouge meets Cabaret meets Burlesque, and is an intimate and fully immersive performance experience. Over a 4-course gourmet meal set in the lush red velvet of the mirror palace, a cast of entertainers from around the world combine magic, love and laughter into an evening to remember. Performances will be held Wednesday through Sunday in Queen Elizabeth Park from November 1st to New Year's Eve 2018.
Bacio Rosso's premiere in Vancouver will feature exceptional talent from around the globe including magicians, jugglers, trapeze artists, contortionists, clowns, singers and comedians. While enjoying performances both thrilling and absurd, guests will also feast on a delicious four- course gourmet meal curated by one of Vancouver's award winning chefs, Adam Pegg from La Quercia. Specializing in authentic Italian cuisine, Chef Pegg was the first Canadian to be awarded Master of Italian Gastronomy from The Italian Slow Food School. Guests will experience his  menu first hand throughout the course of the show.
The three-hour performance takes place in an antique Belgian Spiegeltent with an interior that features lush red velvet, handcrafted woodwork, and over two thousand bevelled mirrors. The Spiegeltent holds multiple stages, a full-service bar, and dining tables that place audience members in the heart of the action. Every Spiegeltent is given a uniquely personal name and Vancouver's Bacio Rosso will be hosting the lovely Carrousel, described as a living jewel box with the ability to transport guests back to the romance of Old Europe.
"Bacio Rosso is an opportunity for Vancouver audiences to experience the joy, magic and  humour of this exceptionally enchanting evening, and we could not be more excited to showcase the first of its kind in Canada," says Bacio Rosso's Artistic Director, Scott Malcolm, who has spent 15 years directing Cirque Cabaret across Europe and the US. Malcolm has held titles of director, artistic director and managing director in leading companies within this field, including Pomp Duck and Circumstance, Teatro Zinzanni and Palazzo Produktionen.
Visit Bacio Rosso for your next night out, group event or your next corporate outing. From small groups to full-tent buyouts, the Bacio Rosso experience can be tailor made to fit any need.
Visit www.baciorosso.com for more information and to purchase your tickets.