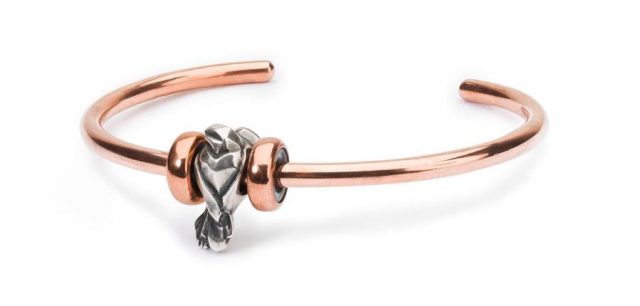 Trollbeads, the original bead-on-bracelet, introduces a new Valentine's Day bead, Lovebirds. The sterling silver bead will be available in stores and online on February 1, the perfect piece to give or receive on the day of love.
Whether you're heading out on the first electrifying date or spending this romantic day with your partner through 35 years, remember to show your love. Love grows with the attention you pay it – and sweet surprises, loving gifts and a little pampering are all classic essentials on Valentine's Day.
It is time for the Lovebirds to chirp. Share love with the one who makes you sing the sweetest tunes.
The bead looks fantastic by itself on a leather necklace or bangle, maybe even on a bangle of copper – the metal of love. Or give a sterling silver or leather bracelet with Lovebirds and Rosa Quartz. This is definitely the sweetest gift for romance.
The exquisite craftsmanship of Trollbeads' jewelry is only truly complete when you match the different components that tell your stories in your own personal way. Your individuality, the way you live your life and the meaning you attach to each bead is the true beauty of Trollbeads.