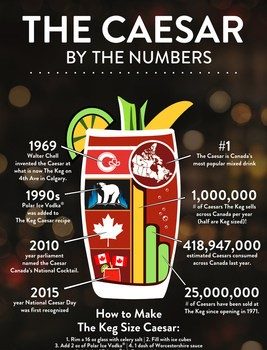 In honour of National Caesar Day on May 17th, Canadian vodka brand Polar Ice Vodka® and The Keg Steakhouse + Bar are joining together by celebrating Canada's National Cocktail: The Caesar.
It is commonly understood that the first Caesar was created by Walter Chell at the Calgary Inn which is now The Keg Steakhouse + Bar located at 4th Avenue inside the Westin Hotel. Having been officially named Canada's National Cocktail by Parliament in 2009, National Caesar Day is a day that celebrates a moment in Canada's culture.
Polar Ice Vodka®️ has been the Keg's choice for their famous Caesar since the 1990s. More fun facts about the classic Caesar can be found in a custom Keg Size Caesar infographic.
This year, The Keg is unveiling a new twist on the classic Caesar in their summer drinks menu: The Prescott Caesar, featuring J.P. Wiser's® Deluxe whisky and the addition of pineapple juice. Look for it at The Keg starting May 14th.
Can't get enough of Keg Caesars? Fans can enter to win a private tasting menu dinner for eight at The Keg by participating in the Keg Size Your National Caesar Day Contest.
How to enter:
Visit kegsizeyourcaesar.ca and answer the question: "Why do you think the Caesar is Canada's best cocktail?"
*Eligible applicants must be of legal drinking age and located in Canada (Quebec excluded).
To find your nearest Keg location, head to kegsteakhouse.com. To learn more about Polar Ice Vodka® check out polarice.ca.
About Corby Spirit and Wine
Corby Spirit and Wine Limited is a leading Canadian marketer and distributor of spirits and imported wines. Corby's portfolio of owned-brands includes some of the most renowned brands in Canada, including J.P. Wiser's®, Lot No. 40®, Pike Creek®, and Gooderham & Worts® Canadian whiskies as well as Lamb's® rum, Polar Ice® vodka, McGuinness® liqueurs, and the recently acquired Ungava® gin. Through its affiliation with Pernod Ricard S.A., a global leader in the spirits and wine industry, Corby also represents leading international brands such as ABSOLUT® vodka, Chivas Regal®, Aberlour® and The Glenlivet® Scotch whiskies, Jameson® Irish whiskey, Beefeater® gin, Malibu® rum, Kahlúa® liqueur, Mumm® champagne, and Jacob's Creek®, Stoneleigh®, Campo Viejo®, and Kenwood® wines. In 2018, Corby was named one of the 50 Best Workplaces in Canada by The Great Place to Work® Institute Canada for the seventh consecutive year. Corby is a publicly traded company based in Toronto, Ontario, and listed on the Toronto Stock Exchange under the trading symbols CSW.A and CSW.B. For further information, please visit our website or follow us on LinkedIn, Twitter (@CorbySW) and Instagram (@CorbySW).
About The Keg Steakhouse + Bar
The Keg Steakhouse + Bar has been serving great steaks across Canada and the US for over 45 years. Quality has been a cornerstone of The Keg's success since its first restaurant opened in Vancouver in 1971. The Keg's focus has been, and continues to be, on providing exceptional service and quality food in a comfortable atmosphere for its guests. For further information, please visit www.kegsteakhouse.com.