Their There is set to open its doors on Canada Day, Sunday, July 1 at 2042 West 4th Avenue in Kitsilano.
From the team that brought you AnnaLena, Michael Robbins' and Jeff Parr's Their There offers Vancouverites and visitors something different from the standard bakery and coffee shop program.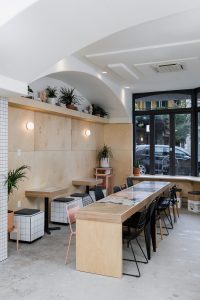 With Lucy Kirby (Hawksworth, Nelson the Seagull, Buca) heading the pastry program, the approach will be playful with an emphasis on high quality ingredients and inventive flavours. Chef Robbins will be executing a mix of breakfast and lunch sandwiches alongside Parr's focused beverage program of local beers and interesting wines – going full rosé out the gate with a starting line up by SeaStar Vineyards, Sunday in August and Tantalus Vineyard.
Their There will also be working exclusively with Portland, Oregon's Heart Coffee Roasters for their coffee program.
"We're creating a coffee shop that we want to go to," shares Robbins, known for his unconventional style, hands-on interior design, and innovative approach. Robbins, Parr and their tight-knit team, including chef Ryan Murphy and Robbins' father and brother, designed and built the restaurant to reflect a laid-back and welcoming space, with artistic touches, hand made furniture and personally designed artwork.
Their There will be open seven days a week from 8 am to 5 pm.