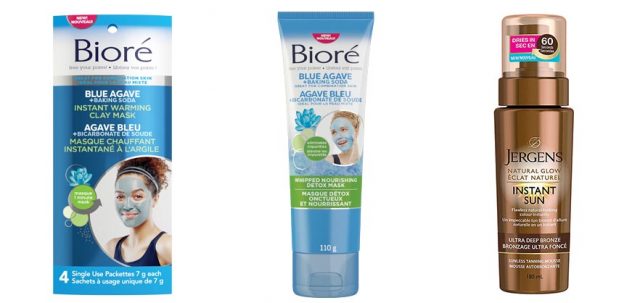 Show love to your skin by treating it to this duo of products for radiant clear complexion. The NEW Bioré Baking Soda and Blue Agave Balancing Pore Cleanser and Instant Warming Clay Mask are the newest innovations in tackling part oily and part dry skin. The Baking Soda deep cleans, while the Blue Agave provides conditioning benefits-double the action, all in one product. Combination skin: this is your dream team!
For those who have a romantic evening planned, the John Frieda Frizz Ease Miraculous Recovery Shampoo and Conditioner help create a smooth finish for any style to keep frizz at bay and ensure that it's the last thing you'll need to worry about all night.
Even though the temperatures will likely be frigid, you don't have to let the cold ruin your shine! Jergens® Natural Glow® Instant Sun™ Sunless Tanning Mousse can help you achieve natural looking colour no matter the weather.  Mimic the colour results you would get from natural sun after one use and brighten up any room you enter!
Bioré Baking Soda and Blue Agave Balancing Pore Cleanser
Deep cleans the oily parts while smoothening and conditions the rough and dry parts
Gently exfoliates away dead cells, allowing healthy cells to emerge
Bioré Baking Soda and Blue Agave Instant Warming Clay Mask
Baking Soda and Blue Agave provides targeted treatment for dry and oily areas
Deep cleans pores
Purifies and refines skin by absorbing excess oils
Incorporates a unique self-heating technology that's activated when massaged into the skin
John Frieda Frizz Ease Miraculous Recovery Shampoo & Conditioner
Infused with Amino Repair Complex and vital nutrients
Provides healthier looking and feeling style
Jergens Instant Sun Sunless Tanning Mousse
Works with your skin tone to mimic the results of natural sun
No orange hues
Dries in just 60 seconds and continuously develops over a four hour period