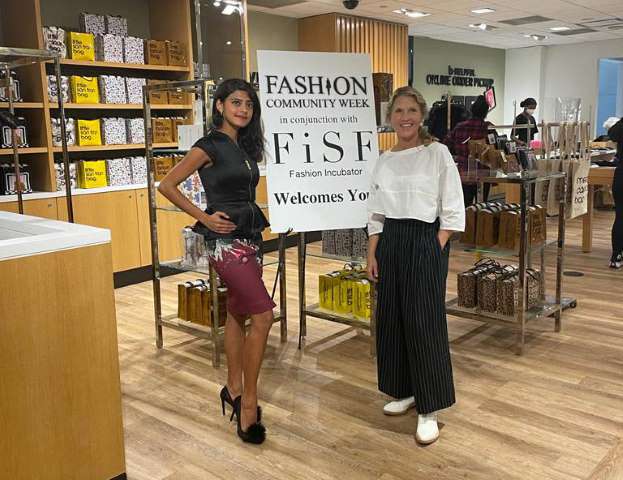 The fall of California was welcomed by the 15th edition of Fashion Community Week in San Francisco! This took place September 30th through October 2nd, the lineup featured an opening soiree, a runway show, a conference, networking, and shopping event.
This season's events kicked off with an Opening Soiree on September 30th at the private members club, the Modernist. The guests enjoyed an evening of fashion photography with cocktails and socializing with fashion enthusiasts in the community.
On October 1st, the festivities continued at the Clift Royal Sonesta Hotel with one of Bay Area's most popular events; One-of-a-Kind Fashion Show. The evening started off with a VIP reception followed by a runway show featuring the season's collection. The evening continued with a celebration gathering with live music. The presenting runway designers were Viktoria Marchev (Hungary), Heba Hazem (Egypt), Phyllis Emelda (Oakland), Ashanti Altovese (Los Angeles), Kaleo Diego (San Francisco) and Ken White (New York). At the end of the runway show, a presentation of a live exhibition of hand painted dresses were presented by Ukrainian Designer Yuliya Raquel. The art on the dresses expressed the current situation of Ukraine. It was a memorable moment that left the guests in awe!
Our final day hosted a Fashion Conference and Pop-up Shopping event on October 2nd at the Fashion Incubator. The afternoon welcomed industry experts Lana Hogue, Tammy Relya and Shirin Hashem discussing the future of business in the Fashion industry. The afternoon concluded with networking and a pop-up shopping hosted by Louise Bell, Bra-serie and Scotch Bonnet.
Every season Fashion Community week selects a cause to raise awareness and this season was dedicated to benefit the nonprofit PWIC Global Impact.
Each year Fashion Community Week continues to expand under the leadership of a diverse board of professionals. The organization firmly believes in standing for 'fashion has no borders' and 'beauty has no gender, size or race barriers'! As a result, the organization has presented fashion and beauty talents from over 60 countries, many of the talents coming from under represented backgrounds to launch their dreams at Fashion Community Week.
We invite you to follow the Fashion Community Week social media channels for upcoming Fashion Community week events. The organization is looking forward to celebrate their 16th edition in the Spring of 2023 and continue to position San Francisco on the Fashion Map!