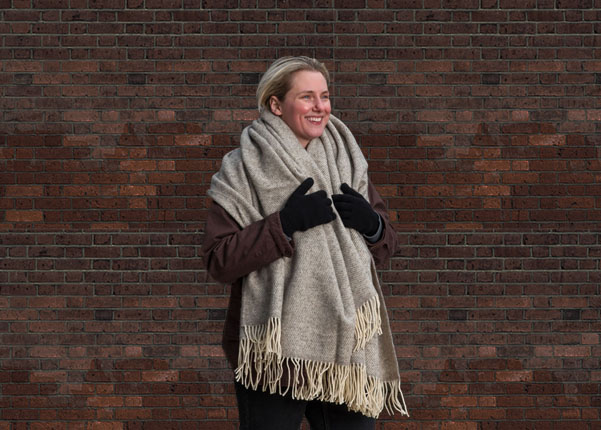 cozy mental image may be, it's sadly outdated: wool is not only a multi-application wonder fibre, but also crucially good for the environment.
Of late, the environmentally friendly and sustainable character of wool has made it a popular choice for high-end fashion designers rolling out their winter looks. If you need a little more convincing to get some wool into your wardrobe this season, these five facts will have you feeling all warm and fuzzy about the prospect:
#1: Wool is highly breathable, keeping you nice and warm without being sweaty
Wool is warm yet stretchy and a highly breathable material, making it the perfect choice for our Canadian winters. In contrast to some of the most common synthetic materials, wool is able to autonomously react to changes in body temperature, warming you up when you're cold and cooling you down when you're hot. It accomplishes the former by trapping pockets of air within its 'crimp' – its naturally occurring waves and folds.
#2: Wool is resistant to wear and tear
If you took a piece of Canadian wool and stuck it under a microscope, you would see that wool fibre is highly durable, bouncing back to its original shape under duress. Wool can be bent back towards itself over 20,000 times without breaking: a stark contrast to cotton and silk, which can only withstand 3,000 and 2,000 bends, respectively.
#3 Wool keeps you dry during the snowiest of times
As any Canadian will tell you, our winters can be long, cold and wet. With mountains of snow coming our way this winter season, why not wear a product that can absorb a third of its body weight before you even feel slightly damp? This magic quality comes from Lanolin: the natural wax present in wool that repels moisture of all kinds. No one said you couldn't stay dry and look fantastic at the same time!
#4 Easy on your hands, tough on odours
Wool is far less coarse than other common clothing materials, reducing annoying chafing. It's also exceptionally odour resistant, owing to a unique chemical structure that locks secreted odour within its fibres to be released later in the wash. With wool, you'll never have to worry about looking and smelling your best.
#5 Wool is 100 per cent natural, renewable and biodegradable: the perfect green trio
No one wants to see mountains of discarded t-shirts clogging up our landfills. Wool is an eminently sustainable material that is harvested annually with a minimal footprint. As an all-natural material, discarded wool is biodegradable and – perhaps even better – easy to recycle, giving last season's statement pieces a new lease on life.
The Campaign for Wool Canada, under the patronage of HRH The Prince of Wales, continues to advocate for the many virtues of wonders of Canadian wool. HRH The Prince of Wales has gone as far as burying two sweaters in a flowerbed outside the Clarence House, one made from wool and the other synthetic materials. In six months time, only the wool sweater decomposed into the earth showcasing wool's sustainable factor.
For more information on wool and its myriad applications in fashion and beyond, visit https://campaignforwool.ca/