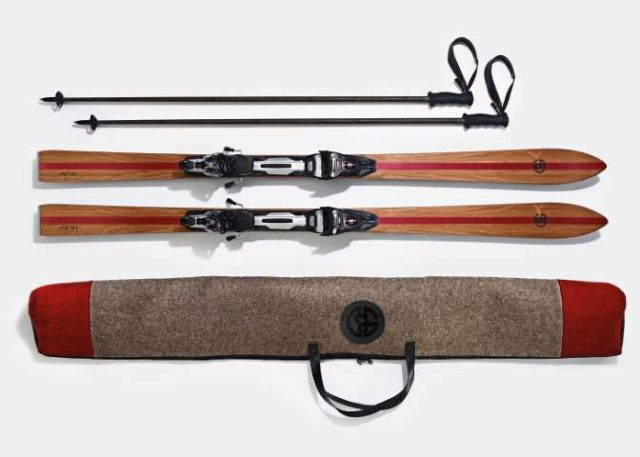 BOGNER, the Athluxury Sports Fashion Brand, celebrates its 90thanniversary in 2022: 90 years of pioneering heritage combining luxury fashion, sports and unique design. To mark this anniversary, the Munich-based company has created an exclusive anniversary ski set consisting of skis, ski poles and a ski bag.
BOGNER and skiing have been unequivocally linked since the company was founded in 1932 by Olympic skier Willy Bogner senior. Inspired by his iconic racing ski, the anniversary ski has been newly reinterpreted, enhanced with modern features and symbolizes 90 years of successful pioneering work.
Made to order, the ski is handcrafted from a composite of exquisite materials such as bamboo, paper and titanal, for its exceptional strength. To guarantee quality and precision, the anniversary ski is glued at room temperature and then pressed. For the incomparable BOGNER look, consisting of traditional craftsmanship and high-tech function, the ski is decorated with laser engraving and an exclusive logo. The final product, which combines brand, history, ski construction expertise, passion and the highest quality materials, is absolutely unique and numbered 1 to 90. Number 1 is not for sale, as it is reserved for Willy Bogner junior.
The anniversary ski is complemented by black carbon ski poles with retro-inspired grip. An exclusive ski bag, made from a former Swiss military blanket, promises durability and style, and makes each one a luxurious one-of-a-kind set.
Limited to 90 pairs, the anniversary ski sets are available for pre-order now at the following LINK for 4,250 euros and will be delivered in fall 2022.