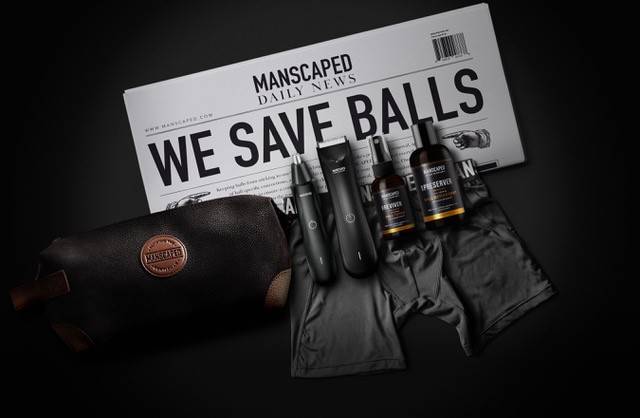 MANSCAPED™, the globe leader in below-the-waist grooming and hygiene, has launched its first ever above-the-waist tool – The Weed Whacker™ – in Canada! Combine this groundbreaking device with the best-selling groin trimmer and skincare products, and you have a premium set of essentials that is a must-have for the men on your list…
Introducing The Performance Package, our newest luxury grooming kit that includes:
The Lawn Mower™ 3.0 – The legendary electric trimmer for the groin and body is the cornerstone of a refined grooming routine. The precision engineered device boasts a 7,000 RPM motor with QuietStroke™ technology and replaceable ceramic blade with MANSCAPED's SkinSafe™ technology that helps reduce the risk of nicks, cuts, and snags. The 600mA Li-Ion rechargeable battery and waterproof ergonomic design allows for a safe and easy trimming session.
The Weed Whacker™ – *Now Available in Canada* – This revolutionary electric ear and nose hair trimmer is a technological masterpiece, redesigning the traditional nose hair taming tool by focusing on maximum performance and comfort, and offering a sleek, ultramodern design. The tool features SkinSafe technology, a 9,000 RPM motor and 360-degree rotary dual-blade system, and intelligently contoured design.
Crop Preserver™ – Ball deodorant is a thing, and it's life-changing. The anti-chafing formula is infused with cooling aloe vera and controls any stench coming from an unwanted "swamp crotch".
Crop Reviver™ – This innovative ball toner is the solution for maintaining hygiene and cleanliness on-the-go. The restorative spray relieves high-friction areas and post-shave irritation with just a spritz or two.
Available at ca.manscaped.com, The Performance Package is priced at CAD $169.99 and Weed Whacker at CAD $49.99.