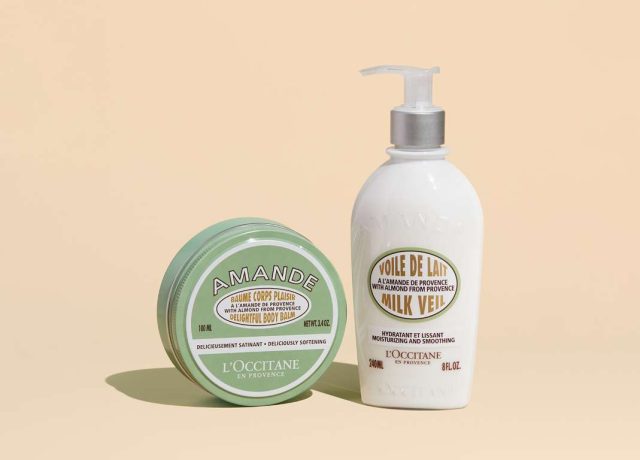 L'Occitane just added two new products to its Clean Charter you might ask what Clean Charter is – well, through their dynamic programs of continuous improvement, L'Occitane has set a new global challenge for themselves with criteria going beyond their Formulation Charter commitments. With these additional criteria, they are going the extra mile to create formulas with even more natural origin ingredients that minimize their environmental impact, without any compromise on sensorality.
While these products are not new, they have now been reformulated to be better for your skin but the planet. Allow us to (re)introduce them to you!
First, the beloved Almond Delightful Body Balm now includes 100% of almonds sustainably sourced from their partner-producers in Provence and the Mediterranean. Perpetually inspired by local traditions from the South of France, this rich body moisturizer spreads like cream to transform in an indulgent oil, rich in omega 9, squalene and vitamin E, bringing immediate nourishment to skin through irresistible notes of warm vanilla and nuts.
For those who prefer ultra-light moisture and softness, the new and improved Almond Milk Veil was made for them. This exceptional body milk is a love letter to the powerful fruit sourced in Haute Provence by perfectly blending almond milk and almond protein with sweet almond oil, obtained through a cold pressure process that help retain most of its nutrients. By gently massaging it morning and/or evening, it leaves the skin in need of extra love feeling smooth and visibly firm.
The Almond Delicious Body Balm ($46) and Milk Veil ($50) are available now at L'Occitane boutiques nationwide and online at ca.loccitane.com