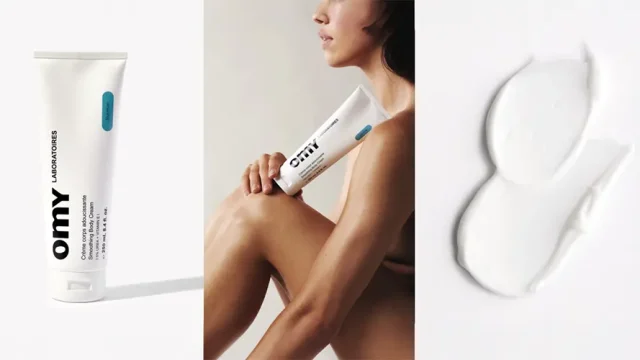 Omy Laboratoires, an eco-responsible Canadian skincare company specializing in personalized skincare products, is thrilled to launch its Smoothing Body Cream (5% Urea + Vitamin E) in time for Psoriasis Awareness Month. For every body cream sold, Omy Lab will donate 5% of profits to the Canadian Psoriasis Network.
This body cream has been specifically formulated to create an effective skin routine that both softens the skin thanks to a 5% concentration of urea and soothes it with calendula and chamomile. This cream is ideal to moisturize and soften any area of the body, and can also be used for severe dryness as well as help reduce the appearance of scaly skin or bumps that can happen with some common skin conditions such as Keratosis pilaris and psoriatic prone skin. This body cream is hypoallergenic, has been tested by dermatologists and contains 100% vegan ingredients, 95% of which are from natural origin.
The Smoothing Body Cream removes the layer of dead cells on the surface thanks to the exfoliating action of urea, provides natural moisturizing factors and soothes the skin. The product effectively moisturizes very dry skin, including the heels and elbows. Its 5% concentration is ideal for daily application and suitable for sensitive skin. Vitamin E provides antioxidant and protective efforts for the skin, while its pH balance, probiotic technology, and patented emulsifier, prevents and protects against damage to the skin barrier.