"I've always been fascinated by dancers and people on stage. These women performing in marvelous costumes, standing in heels, going down vertiginous stairs with an inexpressible elegance". Christian Louboutin
On Friday September 30th, Christian Louboutin presented The Loubi Show II in Paris, a concept with an original dance performance, illustrating the Spring/Summer 2023 collection. For the second season in a row the Maison proposed a live show to present its creation following the success of the Loubi Show I presented in March 2022 at Espace Niemeyer.

The show took place at the Gustave Eiffel Room located in the heart of the Eiffel Tower, one of the world's most recognizable landmarks. A powerful and distinctive symbol of the city of Paris, beloved home to Monsieur Louboutin. Set on the first floor overlooking the Parisian skyline, the space exhibited a transparent made-to-measure glass bridge stage supported by a red metallic frame featuring Christian Louboutin's signature heart. The bridge was placed in the center of the room providing a 360° view of the performance and the collection. The floor was covered by the house' iconic red carpet, evincing one of the Maison's most important color codes throughout the room.

And now let the Loubishow begin…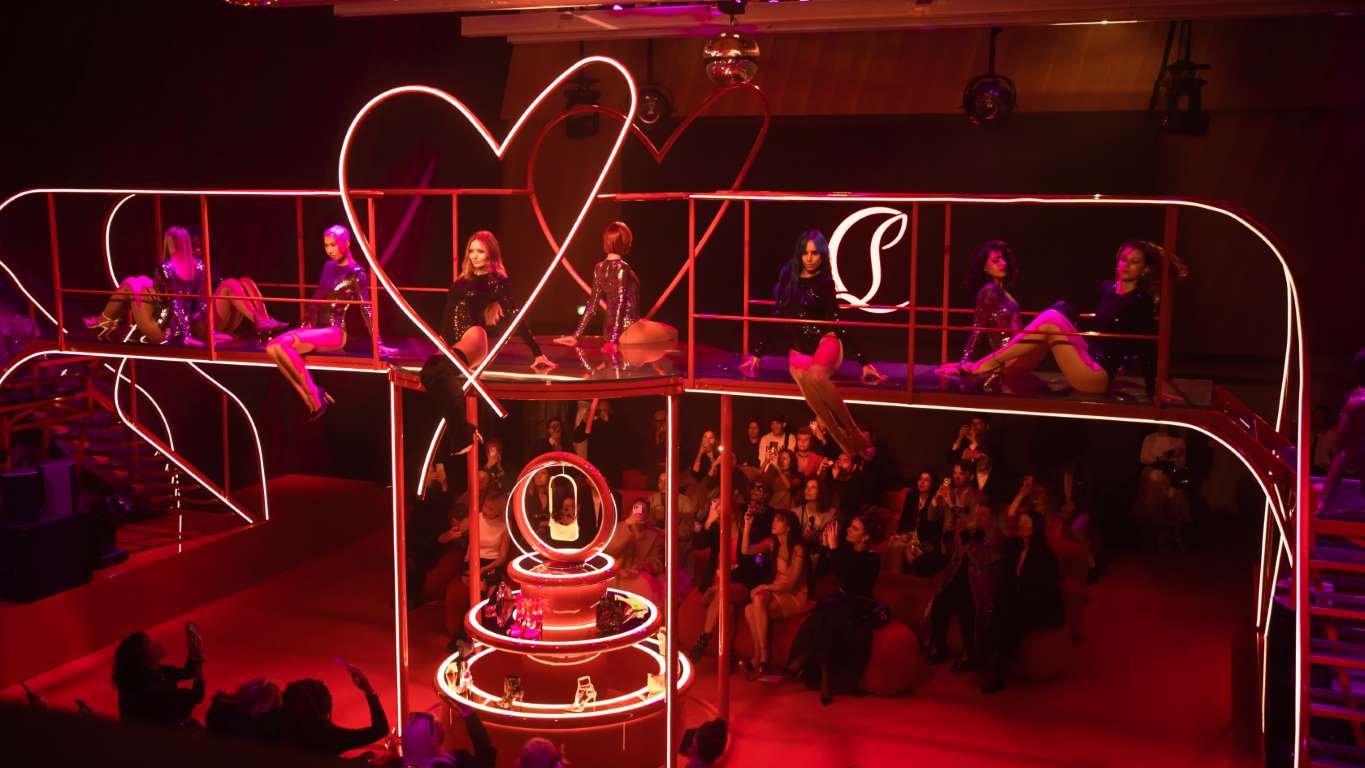 The show consisted of thirteen diverse dancers wearing the Spring/Summer 2023 collection including a selection of fluorescent styles and the new LIPSTRASS HEEL, bringing the shoes to life. Interpreting a contemporary choreography, the performance gradually transfigured from a robotic movement into a humanized and emotional piece.

The sunset and final show featureed a live performance by French Dream Pop singer Vendredi Sur Mer, whose songs accompanied the entire choreography. Amongst those, new singles from her latest album Metamorphose as well as one of her biggest hits ECOUTE CHERIE.
In addition to the shoes worn by the dancers during the performance, Christian Louboutin's was also unveiling more Spring/Summer 2023 styles beautifully displayed on metallic sinuous plinths. Focusing on new silhouettes and exquisite colors, the selection included soft pastel styles and the new LOUBILA chain shoulder bag.

In order to create a connection between the digital and physical universes of the House, Christian Louboutin also offered a unique Web3 experience.

The House gifted a complimentary NFT (non-fungible token) to viewers of the exclusive online streaming of the "Loubi Show II," as well as to those lucky enough to see the show live at the Eiffel Tower. Attendees received a QR code that allowed them to obtain a POAP designed by the House: the acronym for Proof Of Attendance Protocol, an NFT attesting to their presence at an exclusive event. A POAP is an NFT, therefore it is unforgeable and impossible to copy. POAPs are unique digital collectibles created in celebration of life's remarkable moments.