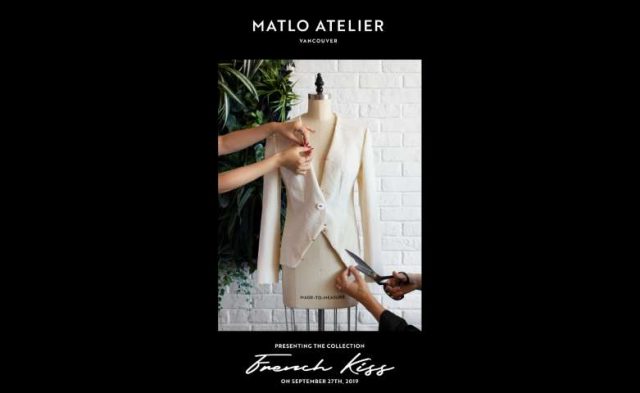 On September 27, 2019, at the Fairmont Hotel Vancouver Rooftop, approximately 200 special guests, media and clients will experience an unforgettable evening of canapés and cocktails, silent auction and an exclusive glimpse of Jason Matlo's new made-to-measure collection, French Kiss."This collection is a true expression of our love of exquisite fabrications, design and detailing involving hundreds of hours of craftsmanship, as we search for subtle but perceptible luxury. Each look is painstakingly fabricated in the style, tailoring and workmanship of European Couturiers" says Jason Matlo.  "French Kiss is a made-to-measure, bespoke collection for men and woman that lives halfway between the catwalk and real life."
The show will be a spectacular and exclusive night featuring Jason Matlo's French Kiss collection hosted by Vancouver's own, Erin Cebula with a portion of proceeds going to Girls Inc., a non-profit organization with a mission to inspire all girls to be strong, smart and bold. Girls Inc. provides girls, 6 to 18 years old, with the knowledge and skills needed to break free from gender stereotypes, create social change, be proud of who they are and be confident in their own skin.
LIMITED seating available.  There will be no tickets sold at the door.
We hope you can join us!
Show Information
September 27that the Fairmont Hotel Vancouver, on the Rooftop, 900 W Georgia St, Vancouver, BC
6:00pm Canapés, Cocktails, and Silent Auction
7:30pm Runway Show
Limited number of seats available for purchase at www.jasonmatlo.com
$185 / ticket