Canadian sustainable handbag brand, Piper & Skye, announced today the launch of a new Holiday Red Capsule Collection, with a give-back initiative in partnership with Safe Transitions, for the highly anticipated 2020 holiday season.  Available as of today, the 5-piece red capsule collection includes a combination of rare sustainable investment pieces and lower price point accessories made from sustainably sourced and ethically made exotic skins.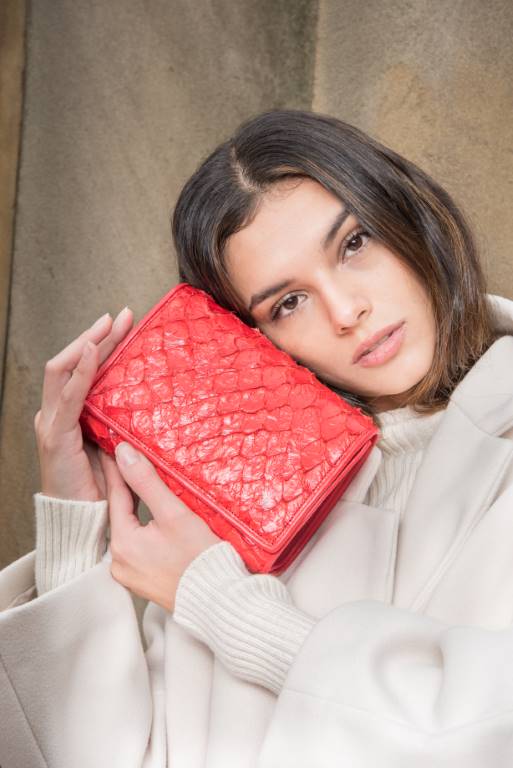 "Red is the symbol of passion, strength, endurance and of course holiday spirit," states Joanna MacDonald, Founder of Piper & Skye. "In this festive capsule, I wanted to embody these immensely important feelings with an opportunity for us to come together and give back during one of the most trying years we have ever lived through with some of our most popular styles."
The new holiday capsule features four of Piper & Skye's most popular silhouettes in a mix of the brand's signature sustainable leathers: 100% wild American alligator and the Brazilian pirarucu fish. The 5-pieces include Nola Crossbody in Red Pirarucu, Adelaide Cardholder in Red Alligator, Soho Top-Handle in Red Pirarucu, Soho Top-Handle in Red Alligator, and Lola Crossbody in Red Pirarucu.
Capturing the spirit of the holiday season, 25% of the proceeds from the sale of any piece in the Holiday Red Capsule Collection will be donated to Safe Transitions, a not-for-profit organization founded to help alleviate the ongoing pressures and urgent need for housing in shelters for survivors of domestic abuse, homelessness, and human trafficking across Canada.
"I'm extremely passionate about giving back to the community. Our partnership with Safe Transitions helps to directly change people's lives for the better, something I hope will continue for years to come." Continues MacDonald.
The Piper & Skye Red Holiday Capsule Collection is now exclusively available on the brand's e-commerce page at www.piperandskye.com