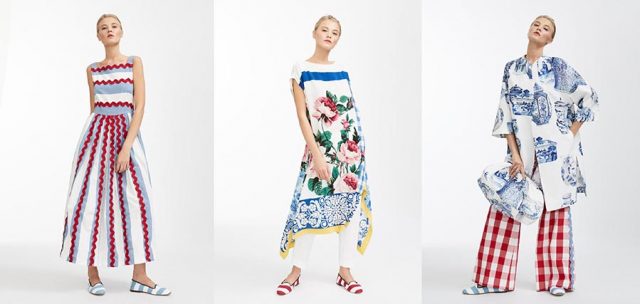 For Spring Summer 2019 Weekend Max Mara launches a new Signature Collection: "Nantucket", created in collaboration with American interior designer Anthony Baratta. Entitled Nantucket, the twelve-piece offering, finds inspiration in the famous summertime retreat in Cape Cod, Massachusetts. An easygoing collection of dresses, skirts, trousers, shirts and accessories conjure up endless summer days on the historic island enclave known for its scenic harbor, charming shingle style homes and poetic gardens.
No one understands American design quite like Anthony Baratta. Called the king of East Coast chic, he has been transforming America's most stylish summer homes since the 80's. A Baratta interior is instantly recognizable for its lush use of color, inspired mix of patterns and exuberant references to traditional design. Whimsical Chinoiserie prints, cheeky nautical motifs, stately colonial antiques and effervescent florals are calling cards of the legendary designer's vaunted work.
The Nantucket collection features breezy prints, romantic cuts and delightful accessories form a joyous collection inspired by America's most beloved summertime destination. Full skirted sleeveless dresses come in strawberry coloured gingham and blue stripes, both with passementerie rick-rack trim. Wide-legged palazzo-style trousers receive the same patterned treatment. A flowing mid-calf length circular skirt is printed with a delicate rose motif on micro gingham checks. Lemon yellow trousers feature lovingly rendered illustrations of Baratta's own furniture designs. A duster coat is decorated with white and blue Chinese porcelain vases – a singular love of Baratta's. A similar motif is carried over to an oversize shirt, while a short sleeved sweater features white and blue horizontal stripes and embroidered roses. A patchwork of roses, gingham checks and stripes are found on an asymmetric dress, as well as a t-shirt.
The Pasticcino bag will also be available in the custom Chinese vase and furnishing prints. Sweet cotton canvas slippers will come in white and blue or strawberry colored stripes. Anthony Baratta's Signature Collection will be available in all Weekend Max Mara stores and on Weekendmaxmara.com from March 2019.