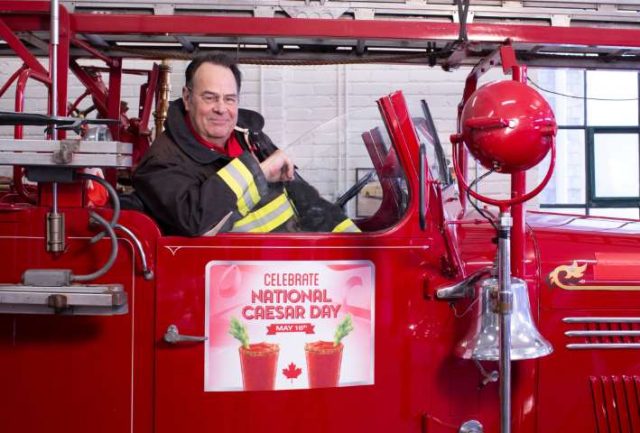 The Caesar is turning 50, and to celebrate, comedic legend Dan Aykroyd is hitting the road in something equally red and iconic!
Swapping his Bluesmobile for a vintage firetruck, Aykroyd is celebrating the golden anniversary of Canada's Cocktail by sharing a Caesar – and some Caesar stories, with Canada's unsung heroes.
The Saturday Night Live alumnus and Ghostbusters creator visited educators and farmers, crossing guards and caregivers, dance teachers, hockey coaches, and more!  And he toasted each of them with the nation's cocktail, made with his famous Crystal Head Vodka and the key ingredient, Mott's Clamato.
"There's no cocktail more fitting to toast Canada's heroes than Canada's Cocktail, the Caesar; and there's no one better to toast the 50th anniversary of this iconic Canadian invention than these same heroes – who are too often overlooked," said Aykroyd.
During Aykroyd's visits, he noted: "If you're Canadian, you have a Caesar story," whose own Caesar story was recently published in a commemorative book, The Caesar. 50 Years. 50 Stories. (Spoiler alert: it involves jet-skiing with the Rolling Stones!)
The book inspired Aykroyd to ask Canadians to share their very own tales of the Caesar, by uploading them to www.YourCaesarStory.ca. The Canadian that he believes has the best Caesar story will join him in Toronto for an exclusive National Caesar Day experience, including a ride-along in the vintage firetruck and VIP cocktail reception, where they'll toast Canada's beloved national cocktail – and swap Caesar stories together!
Canadians can enter from April 2, 2019 until May 2, 2019 and the winner will be announced on May 3, 2019.