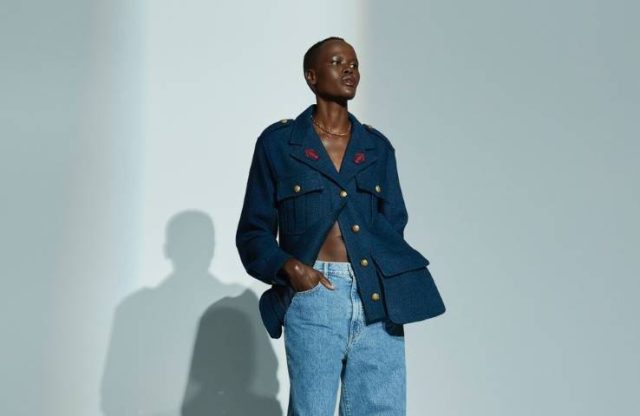 October 4th, 2021 – October 14th marks the release of the 2021 edition of the Campaign for Wool capsule collection at Holt Renfrew. A continuing collaboration since 2018, the 2021 collection will feature pieces from renowned Canadian designers LINE, SMYTHE and ca va de soi, this year with a special Canadian wool '100 Mile Jacket' from SMYTHE.
The aptly named jacket derives its moniker from its means of production: the piece is designed and produced from single-flock Canadian wool spun, dyed, woven, combed, and sewn at various mills and workshops all within 100 miles of Toronto. Beyond its strong tailoring the '100 Mile Jacket' is a celebration of both Canadian design and artisanal talent. It also showcases the creative potential for Canadian wool.
"We are once again delighted to be working with our partners at Holt Renfrew to showcase the incredible talent of our top Canadian designers," said Matthew J. Rowe, CEO of the Campaign for Wool Canada. "Wool is a designer's choice to create elegant, yet beautiful clothing and home accessories. The fact that wool is also natural, renewable, and biodegradable only adds to the value."
SMYTHE's capsule entry also includes a blazer using fabric from Abraham Moon, one of the U.K.'s oldest and most storied mills and a global partner of the Campaign for Wool. LINE the Label rounds out the collection with knitwear made from fully traceable Responsible Wool Standard (RWS) yarns while ca va de soi debuts a buttery soft throw manufactured for the first time at family-owned Toronto mill.
"Our commitment towards sustainability in retail is one we take very seriously," said Alexandra Weston, Divisional Vice President, Brand & Creative Strategy, Holt Renfrew. "The collection showcases both the incredible natural characteristics of Canadian wool, and the wealth of design talent in this country. We are immensely proud to be able to curate a collection that we can stand behind as sustainably sourced, environmentally responsible, and beautiful."
The full Campaign for Wool collection debuts on October 14th, 2021 at Holt Renfrew H-Project locations in Toronto, Montreal and Vancouver as well as online at wwww.holtrenfrew.ca.