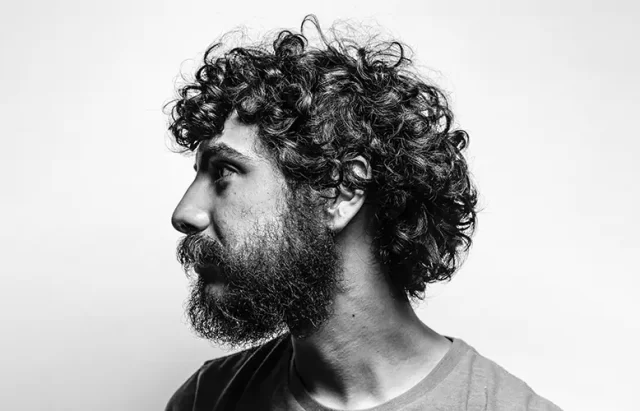 June is Men's Health Month, and out of numerous aspects of personal health, hair, and scalp health are often neglected. Some of men's most common hair-related issues include hair loss, flaky and dry scalp, and premature grey hair. While genes play a role in some hair issues, missteps in one's hair care routine and choosing the wrong products can also be culprits. Mayraki Professional, leaders in vegan hair care, address some of the most common male hair care issues. 
Eliza Pineda, a haircare expert at Mayraki Professional, shares: "The essential first step in men's hair care is to find high-quality products to incorporate into your regular hair care routine. Begin with the essentials: premium shampoo, conditioner, and styling agents are a good start.  A common mistake men often make is grabbing and making do with whatever product they find instead of 'listening' to their hair. Men's hair care should be approached with the same level of careful consideration as women's hair care. First, determine your hair type (dry, oily, curly, straight, wavy, etc.) and observe what your hair needs and prefers. By doing this, you can customize a care routine for your hair and maximize the benefits."
Problem: Hair Loss
By the age of 35, a whopping two-thirds of American men will witness the beginnings of hair loss, with the numbers soaring to approximately 85% by the time they hit 50. Some will even start experiencing a certain level of hair loss before they turn 21! While hair loss is an incredibly common issue, the options for effective at-home treatments have remained limited. Until now.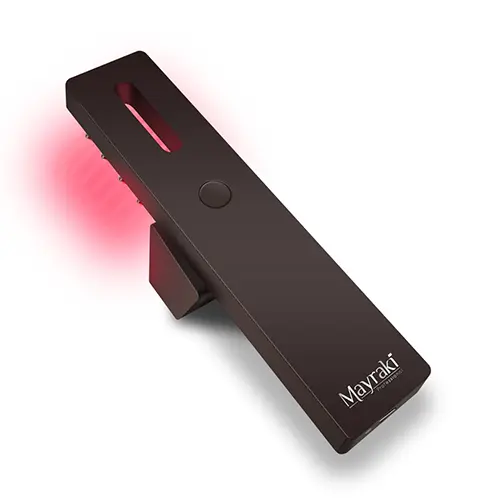 Solution: Mayraki Hair Growth Ulti-Nutra Laser System
Mayraki Professional launched its innovative Hair Growth Ulti-Nutra Laser System earlier this year. Harnessing the power of low-level laser therapy (LLLT) has revolutionized hair loss treatment, providing an easy-to-use and convenient at-home solution. Clinical studies have proven its effectiveness: long-term use (at least 3-6 months) resulted in a 94% increase in hair growth, significantly improving hair density and overall health.
Problem: Styling Products' Buildup
Men often rely on products that provide a strong hold to pursue more striking styling effects. However, these products, with their heavy texture, can accumulate residue near the hair roots. Products like gels, pomades, and clays tend to adhere to hair strands and linger on the scalp. Ordinary washing alone may not eliminate the residue left by these products. The buildup can lead to a dry, irritated, and flaky scalp, adversely affecting overall appearance.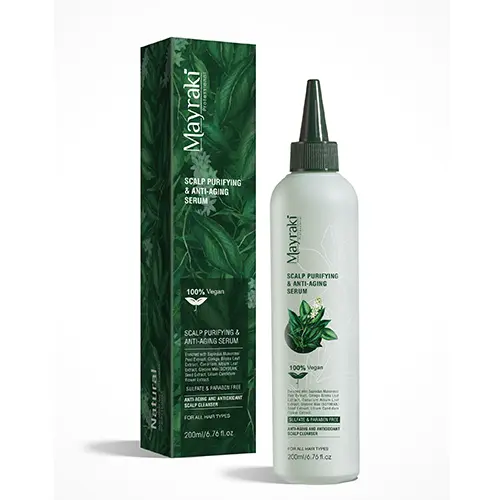 Solution: Mayraki Scalp Purifying & Anti-aging Serum
By leveraging cutting-edge Mayraki haircare technology and a blend of natural ingredients, the Scalp Purifying & Anti-aging Serum works wonders in removing product residue. It delicately cleanses the hair strands while simultaneously nourishing the scalp skin. Its unique vegan anti-aging and anti-oxidant formula contains the highest concentration of Saponaria Officinalis, Ginkgo Biloba, Aloe Barbadensis, Sapindus Mukurossi, and Mentha Suaveolens leaf extract. With regular use, hair becomes healthier and stronger overall.
Problem: Premature Grey Hair
Those stubborn white strands won't go away, and plucking just makes it worse. The exact causes behind why certain hair starts turning grey at a particular age, whether premature or not, remain uncertain. For men, the greying process usually starts in the beard, which experts attribute to shorter hair growth cycles. Gradually, it moves to the hair on their heads. If the desired outcome is to avoid sporting grey hair like George Clooney's iconic look, the available alternatives to constant hair dyeing are quite limited. But not anymore.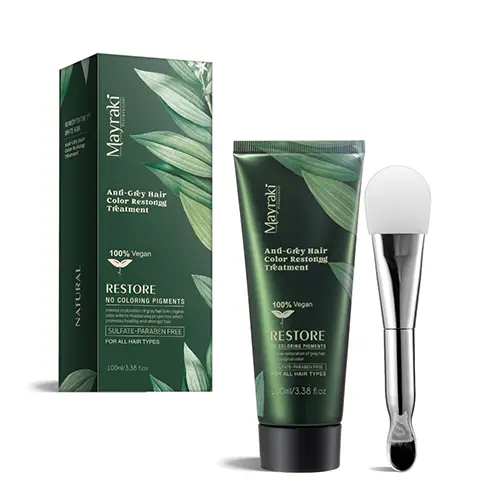 Solution: Mayraki Anti-Grey Restoring Treatment
Hair starts turning grey when the strands lose their pigment. So, instead of offering artificial and temporary solutions, such as hair dyes, technologists at Mayraki targeted the root of the problem: loss of melanin. The Mayraki Professional vegan, fully natural, and patented formula restores melanin production in hair bulbs, leading to hair strands returning to their natural color. Anti Grey Restoring Treatment provides visible results after only two weeks of consistent use, restoring hair's youthful look.