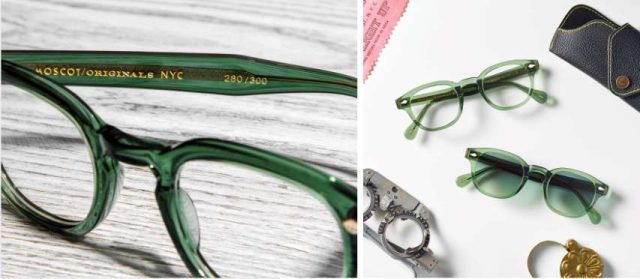 MOSCOT is taking another bold chance on its most popular style, The LEMTOSH, and offering it in a new Limited Edition (LE) colourway: Pine.
This LE will be available on MOSCOT's e-commerce only, in a limited quantity – 300 units in total which will be uniquely numbered 1 through 300 on the temple of each frame. The new style comes in 3 sizes: 44, 46 & 49. This is the first time that MOSCOT is offering the size 44 within the LE collection.
Prices:
Optical: 470 CAD
Sun (with Forest Wood CMT™ lenses): 495 CAD
MOSCOT's most popular design, The LEMTOSH stands the test of time with its iconic design and continues to uphold a legacy of its own. This rounder classic has served as the calling card for generations of creative, thoughtful, free-spirited intellectuals, artists, and authors.