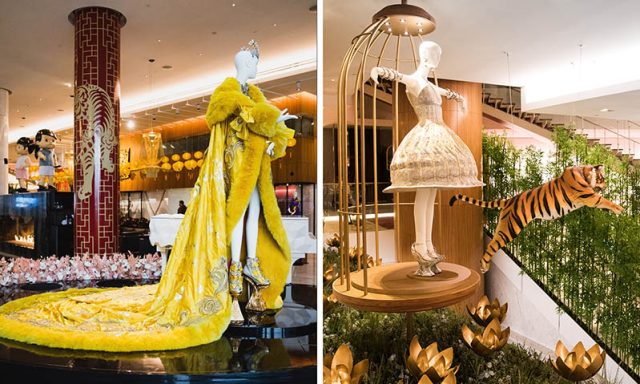 Welcoming the Lunar New Year and the Year of the Tiger, renowned Chinese Couturier, Guo Pei presents a beautifully curated exhibition featuring her 'East Palace' collection and the iconic 'Yellow Queen' gown worn by Rihanna at the Met Gala. Presented by Oakridge Park, in partnership with Guo Pei, The Asian Couture Federation and Vancouver Art Gallery, the exhibition will be held at the Fairmont Pacific Rim from February 1 to February 13, 2022.
For Asian communities around the world, the Lunar New Year is the most important and significant festive holiday of the year. Coinciding with the new moon, 2022 will herald the year of the tiger, the king of all beasts in China and the zodiac, associated with strength, resilience, and fortitude. To mark this moment, Guo Pei, China's 'Queen of Couture', will present a beautifully curated exhibition of some of her finest work. The exhibition includes 17 pieces from her acclaimed 'East Palace' Spring 2019 couture collection which debuted at the Palais de Tokyo during Paris Haute Couture Week, and a standout red carpet look, the 'Yellow Queen' gown worn by Rihanna at New York's Met Gala in 2015, displayed in full for the first time in North America.
The 18 pieces will be displayed throughout the lobby of Vancouver's Fairmont Pacific Rim, offering guests and visitors the opportunity to experience artistry, beauty, tradition and culture, through Lunar New Year events and celebrations held during the exhibition. The Oakridge Park Lunar New Year Celebration and Guo Pei's exhibition will be open to the public daily from 10am – 5pm with complimentary admission. No RSVP or tickets are required for entry.
Special musical performances, a Dim Sum Pop-up by Fortune Terrace, Weekend High Tea and Lunar New Year family portrait sessions will be held throughout Oakridge Park Lunar New Year celebration with Guo Pei's Couture Exhibition. Exclusive Lunar New Year incentives for homes at Oakridge Park will also be available throughout the event.
The Oakridge Park Lunar New Year Celebration is part of a longstanding commitment to championing creativity and the arts. Vancouver's designated new town centre, Oakridge Park will form a new cultural hub for the city – this exhibition represents a continuation of the project's dedication to arts & culture, by showcasing the talents of the globally renowned, visionary Chinese couturier, Guo Pei.
On the exhibition, Westbank founder Ian Gillespie said,
"The work we do at Westbank is made possible by layer upon layer of collaboration, partnering with people from around the world. These collaborations define us. Our exhibition with Guo Pei is one of a half dozen initiatives we are undertaking at any given time, but what's so special about this one is that it builds on our interest in fashion, and allows us to explore the sculptural similarities of art, fashion and architecture. If you look at Pei's work it is highly sculptural – and whether it is the construction of a couture dress or a work of architecture – the degree of artistry and craftsmanship required is the same. Our collaboration with Guo Pei also allows us to delve into another important theme we are exploring, of cultural cross-pollination. Vancouver is fortunate to enjoy many benefits by virtue of being one of the world's most multicultural cities and this is an opportunity to celebrate that."
Guo Pei has been at the forefront of China's creative and cultural renaissance for over 25 years. Named one of Time's 100 Most Influential People, and the recipient of numerous accolades and
awards across the world, she is regarded as China's 'Queen of Couture.' On the exhibition, Guo Pei said,
"As a creator and artist, there is no greater honour or privilege than to share my creativity with a wider audience. This is especially so when it coincides with the Chinese Lunar New Year. A time of great significance to China and Chinese communities around the world, it is an occasion of looking forward, celebration, renewal, and friendship. The pieces that I have specially selected to present, what I hope, is both an important reminder of the past, cultural traditions, and heritage, and a desire for a confident future. This is certainly the case with the 17 pieces selected from my 'East Palace' couture collection which is an observation of female influence and empowerment. This is echoed in my including the 'Yellow Queen' gown, which is of great personal importance, not just for its global recognition, having been famously worn by Rihanna at the Met Gala in New York, but also because it also conveys the power and beauty of women. Collectively, they represent the ideas, skills, and traditions of thousands of years of Chinese culture. I hope that this exhibition will bring a greater awareness and understanding of the virtues I am wanting to express. This marks my first international event outside of China since 2019, and I am indebted to the many organizations and people who have worked so hard to make it happen. I am especially proud and delighted that it is taking place in Vancouver, which is both a beautiful city and a beacon of diversity, tolerance, and acceptance.Therefore, as we reach the start of another Lunar New Year, I hope that through the artistry of couture and the universal language of creativity, this exhibition will be successful in fostering cross-cultural appreciation, connections, and respect."
This ground-breaking, of the moment exhibition, has been arranged with the support and guidance of the Asian Couture Federation (ACF), of which Guo Pei is a senior member designer. Founded in 2013, the ACF represents the most exceptional couture talent across Asia and on a select basis internationally. It has received the support and acknowledgment from various heads of state, fashion institutions and schools including Abe Shinzō, Prime Minister of Japan in 2013, François Hollande, President of France in 2017, Satoshi Onuma, Chairman of the Board and President of Bunka Fashion College, and Caroline Rush, Chief Executive Officer of the British Fashion Council among others. On the exhibition, Dr. Frank Cintamani, Founding President, Asian Couture Federation, said,
"For centuries, global culture and the arts have been dominated by a focus on a Western aesthetic and creative talents. Quite rightly, the last few years have seen this position challenged and the ACF is humbled to have played a part in elevating awareness and understanding of the vast array of talented couture designers that exist across Asia. This exhibition is part of a crucial movement to provide meaningful platforms to present leading Asian designers to a wider audience. With the prevalence of race-based hate crimes around the world, such efforts as this help to act as a powerful counterbalance through the connections, networks and understanding it creates. With the Chinese Lunar New Year, there is perhaps no one better to bring to the fore, than Guo Pei. At the formation of the ACF, it was evident to me that Guo Pei should be a founding senior member designer. Since then, her talent and genius have propelled her to global consciousness and acclaim. Her exceptional couture is a potent example of the creative talent both in China and across Asia. With Vancouver and Metro Vancouver's large ethnic Chinese community, the event will resonate with them at a crucial time on the Chinese festive calendar. I also believe that this exhibition will be of great interest to a much wider and broader population, who will appreciate and collectively celebrate the artistry and beauty of Guo Pei's phenomenal work."
Providing guidance and support for the exhibition is the Vancouver Art Gallery (VAG). Recognized as one of North America's most respected and innovative visual arts institutions, the VAG has been instrumental in presenting some of the most engaging, informative, and thought-provoking exhibitions and events in Vancouver. No stranger to the work of Guo Pei, it showcased the designer's Canadian presentation of the award-winning Guo Pei: Couture Beyond exhibition in 2018/2019.