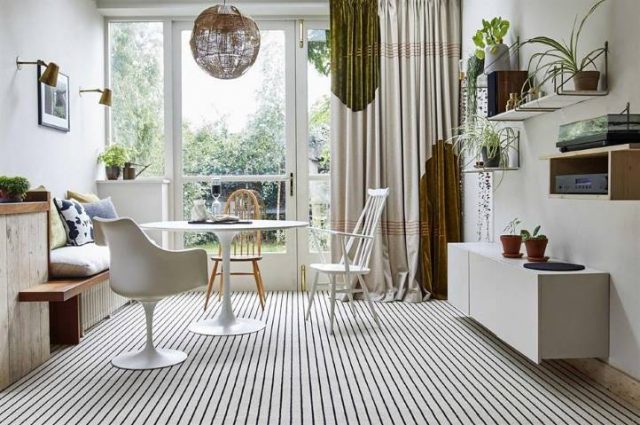 Every guy should know at least the basics of interior design. A lovely home is a reflection of a man who is educated, knows what he wants and cares about his environment.
Forget the days when a bachelor pad meant bare walls, no rugs and the only plants were the mouldy dishes in the sink. Today even with a small budget, you can turn your apartment, condo or house into a beautiful home.
Here are 8 interior design tips for guys.
Choose a colour palette
Deciding on a colour palette before starting decorating and buying furniture can make things ten times easier.
It can be as simple as one main colour and a few shades, a few bolder colours or just plain white as a safe and timeless choice. You will then base all your other interior decisions on these colours and will be able to eliminate options that simply don't work.
It's best to go with earthy, neutral tones over "loud" yellows or reds to keep the home a calming oasis and have more options for future changes.
Invest in the basics
Forbes recommends getting the essential pieces nailed down first, and the rest of the room will follow. It means prioritizing large furniture such as the couch, bed, armchairs, tables etc.
Your best choice is buying quality, elegant pieces and instead have a few things than a room crammed with the cheap stuff. If you budget more money here, you'll get the basics right and will be able to save for accessories and trinkets.
Get a statement piece
A statement piece such as designer chairs, bold rug, handmade dining table or heirloom chandelier can be a way for you to express your style, personal history and aspirations.
Make sure the piece works with the rest of the room too and fits properly in the space. It can take some time to find "the piece" so don't rush, you know what's right when you see it!
Focus on geometric patterns
If you're an interior design newbie, it can be daunting to pick the right patterns for textiles and accessories. Geometric patterns are a safe yet stylish way to solve this problem.
For example, a nice rug with a diamond pattern will tie a generally neutral room together. Or you can choose patterned throw-pillows, blankets and even wallpaper for the same purpose.
There are some great furniture pieces with the geometric design too for those who want to go bolder. These can even become your statement pieces!
Acquire art
Art is the perfect finishing touch to any space and is one of the easiest ways to add bright colour spots to a neutral space.
If you're not very familiar with the art world or have a limited budget, you can opt for something more simple.
For example, a few black and white photography pieces will go with almost any decor or visit the local galleries and see if they have art pieces to echo your rugs' patterns and colours of throw pillows, wallpaper or blankets.
You can also browse online galleries and get more affordable options there.
Show off your style
Your home is an extension of your fashion style. If you love classic pieces such as old-school hats and shoes, feel free to incorporate some items of the same style into your interior.
In this case, a vintage leather armchair or a grandfather clock would work well.
If you're a guy who loves simplicity and mostly wears high-quality t-shirts, such as the basic tees by FreshCleanTees.com, your home should reflect that in more clean and contemporary design.
Pay attention to the bathroom
Often the bathroom is forgotten after all the other rooms are done. But it's such an important space!
Make sure you have appropriate storage options, so your shampoos and shaving products are not just lying around. Simple shelves, baskets or crates will do the trick!
Add a nice rug, new shower curtains, a small plant and a few candles – the modern guy embraces his need to unwind and take care of himself!
Buy some plants
Yes, you will need to water them once in a while, but you can always pick some that don't require much attention, e.g. a cactus tree, fiddle leaf fig tree, succulents or aloe vera.
Greenery not just brighten the space up, fill in the shelves and is pleasant to look at. It also cleans the air you breathe and is said to improve our wellbeing generally.