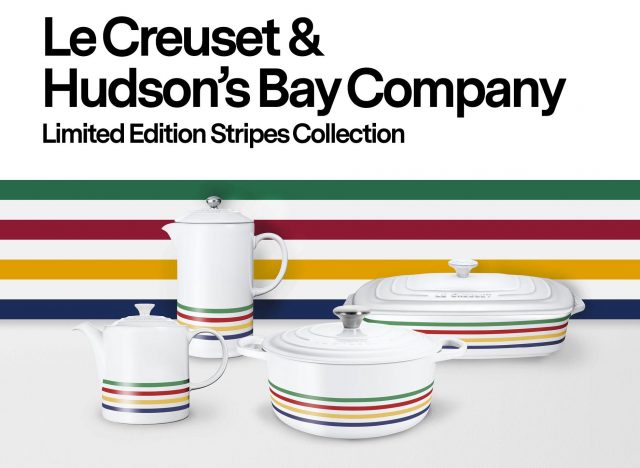 Le Creuset Canada is proud to unveil four limited-edition Stripes Collection products in collaboration with the Hudson's Bay Company. The partnership is a natural fit for these two storied institutions who share many of the same values – chief among them a passion for heritage. Exclusively created for the Canadian market, the Stripes Collection is instantly recognized by the green, red, yellow and indigo Hudson's Bay stripes. The assortment includes four Le Creuset pieces: A 5.3L Round French Oven, 3.3L Rectangular Casserole, 0.8L French Press and 1.3L Grand Teapot. Prices range from $65 to $500 is available in Hudson's Bay locations across Canada as well as online.
The collection is inspired by the stripes first introduced to Canada on point blankets in 1780 during the height of the Fur Trade. Centuries later, the Hudson's Bay stripes have become as tethered to Canada's identity as the Maple Leaf. They represent family, tradition and timelessness – characteristics also deeply rooted in Le Creuset's brand history. Le Creuset created the first enamelled, colourful French Oven in 1925 and since then, the brand has become a fixture in millions of kitchens around the world.
Le Creuset enthusiasts will appreciate the details that have been added to the French Oven to celebrate this iconic collaboration. Made in Le Creuset's original foundry in France, this limited edition Round French Oven has a capacity of 5.3 L and is hand enamelled in a shiny white hue before the colourful stripes are applied. Each stainless steel knob is individually numbered in sequential order leading up to product number 1,670 – the year Hudson's Bay was established. A display medallion has been engraved with both the Le Creuset and Hudson's Bay Company logo. Each French Oven is packaged in a limited edition box with an accompanying certificate of authenticity.
The iconic stripes also adorn three of Le Creuset signature stoneware items. A striped French Press and Grand Teapot are the perfect piece for tea and coffee lovers to commemorate this special collaboration.  The Rectangular Casserole is perfect for preparing nostalgic Canadian dishes – maple fudge, Nanaimo bars, or Tourtière.
Together, Le Creuset and Hudson's Bay continue to inspire countless generations of Canadians with products that epitomize enduring quality and timeless aesthetics.