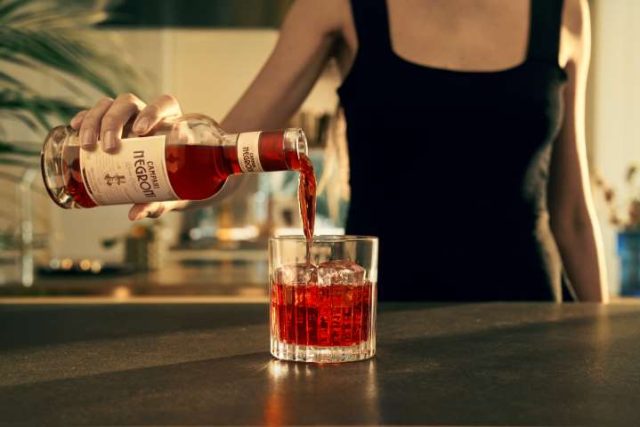 Campari, Italy's iconic red aperitivo, and Imbibe Magazine will come together to celebrate 10 years of raising funds for a better world through Negroni Week. Over the past decade, the global charity initiative, which puts the power of fundraising in the hands of bars, restaurants, and retailers, has raised millions of dollars for charitable causes.
In its landmark 10th year, the initiative has shifted to welcome a new single official giving partner, Slow Food. Slow Food is a global movement of local communities and activists, across more than 160 countries, that envisions a world where everyone can enjoy food and beverage that is good for them, good for the people who grow it, and good for the planet. Just like the Negroni and Campari, Slow Food has proud Italian roots, creating the perfect pairing.
The Slow Food Negroni Week Fund will directly support Slow Food's international projects, while also supporting the hospitality community, preserving cultural and biological diversity, and promoting food and beverage education through the exchange of knowledge. With the increasing challenges facing the world of hospitality, their work is now more crucial than ever.
Not only is 2022 the 10th year of Negroni Week, but it also sees Negroni take the top spot as the world's best-selling cocktail[1], making the anniversary celebrations especially notable. As a cocktail that stirs passion for change, the Negroni is the perfect drink to toast such a worthy cause.
WHAT NEGRONI WEEK 2022 HAS TO OFFER
Campari stands for Red Passion, the creative urge inside us that is impossible to ignore. As the very embodiment of this ethos, Campari believes that bartenders are masters of creativity and artistry, exuding Red Passion in their every creation. That is why the Negroni Week 10-year celebrations will be centered around the 'Bartender's Handshake', a longstanding ritual that symbolizes the very essence of hospitality.
For many years, the 'Bartender Handshake' ritual has been present within the bartending community as a way of greeting friends and colleagues with a small serving on the house, and acting as a way to show respect and appreciation. This year, to celebrate Negroni Week's 10th anniversary and the global bartending community, Campari will bring a twist to this ritual by asking bartenders around the world to create 'Bartender Handshake' Negroni variations. A ritual that has only been known to those within the community will now be shared with consumers around the world through a series of Negroni Week events, providing Campari fans with an introduction to the bartender's handshake as well as a perfect opportunity to donate to a worthy cause.
In Canada, consumers can experience the Bartender Handshake for themselves at numerous exciting events happening coast to coast between Sept. 12-18 including:
September 12: The Loose Tie in St. John's, Newfoundland and Labrador will host a launch party with prizing, a live DJ, and aperitivo-style snacks
September 12: Proof in Calgary, Alberta will host an Industry Bartender Negroni Competition
September 14: Join the Common in celebrating Campari aboard Edmonton's high-level streetcar for
No matter what city you are in or near, you can find local events and bars that are participating in 2022 Negroni Week by heading to https://www.negroniweek.com/.