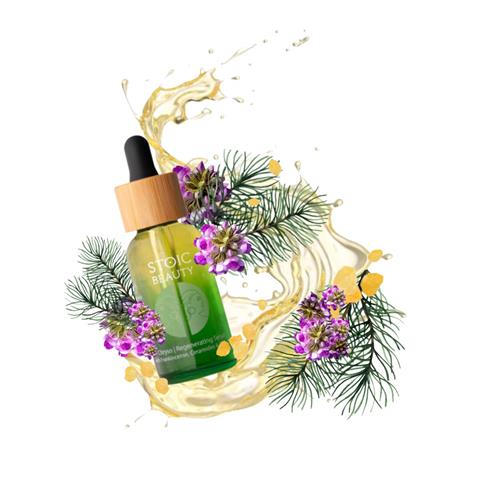 Get ready for the holidays with Stoic Beauty's newest launch Chryso Regenerating Serum. A luxurious, overnight skincare treatment that is powered by three potent ingredients: Bakuchiol, Ceramides, and Frankincense Essential Oil. With colder weather approaching, we all are looking for products that deliver luxury, clarity and serenity. Chryso is the perfect Fall/Winter addition to your overnight beauty ritual. 
We want you to try this out!
Chryso Advanced Regenerative Night Serum $45┃30ML includes the following powerhouse ingredients:                         
Bakuchiol 
A plant-based retinol alternative that helps to smooth fine lines and wrinkles while sealing in hydration. Vitamin A derived retinol is used in a skincare routine to help reduce the appearance of wrinkles, but can often cause irritation, redness, and flaking.  Like retinol, bakuchiol works by promoting cell turnover but is non disrupting to the skin.  Traditionally, bakuchiol has been used in Ayurvedic and Chinese medicine for its anti-inflammatory properties.
Ceramides
When you decide to add ceramides to your skincare routine , you are giving your skin the building blocks it needs to look its best. Ceramides help to restore the skin's natural barrier. Ceramides are lipids that are naturally found in the skin, but their levels decline as we age. This can lead to dryness, redness, and a loss of elasticity. Stoic Beauty includes ceramides III, IIIB and VI (2.5%), cholesterol (0.5%), free fatty acids & phytosphingosine (1%) in our Regenerative Night Serum to help replenish your skin's natural supply.
Frankincense Essential Oil
Historically, Frankincense essential oil has been prized for its ability to calm and soothe the mind and body and is valued for its anti-inflammatory and cell regeneration properties which help to even out skin tone and texture, add elasticity to the skin, minimize wrinkles and fine lines and reduce the appearance of scars and blemishes. Often referred to as "Liquid Gold" and part of Cleopatra's legendary beauty ritual, this skin care ingredient is an ancient royal favorite. Frankincense Essential Oil smells amazing and also helps to reduce the appearance of scars and combat hyperpigmentation. Shown to have "tissue remodeling" properties, Frankincense Essential Oil helps your skin to heal and look its best. A restful night's sleep and daily use of Chryso Regenerating Serum are sure to give the skin a beautiful glow for the upcoming Holiday season.
Chryso Regenerating Serum is also perfect as a travel friendly, luxury stocking stuffer that is ready to pop into a carry on bag at 30ML.
How to Use Stoic Beauty's Chryso Regenerating Serum:
To use, simply apply a few drops of the serum to clean, dry skin before bedtime. Gently massage into the face and neck until fully absorbed. If you use a gua sha or jade roller, you can apply the serum before using your tool for an extra boost of hydration. For best results, use nightly."
For more information on Stoic Beauty