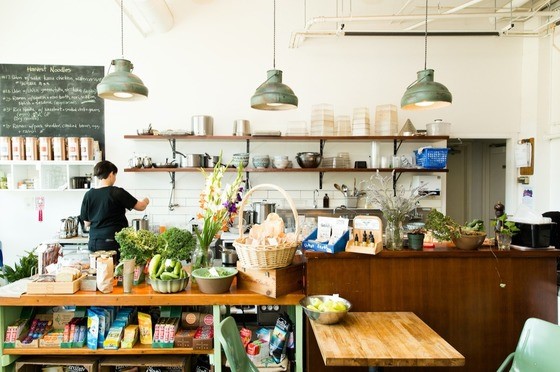 Ready to wow your sweetheart, bestie or favourite family member with the most romantic Valentine's Day yet? Look no further than Chinatown's Harvest Community Foods, where you'll find delectable cookie boxes and Community-Supported Agriculture (CSA) bags filled with seasonal ingredients for a cozy feast for two.
Harvest's CSA bag features a chef-selected assortment of in-season ingredients that can be used to effortlessly whip up an intimate dinner for two. Inside, you'll find winter greens, root veggies, foraged treats and artisan goods sourced from nearby producers and urban agricultural projects, as well as recipes to guide you through the process. Simply pre-order by signing up for Harvest's newsletter, then pick-up your box on Thursday, February 13.
Cater to your nearest and dearest's sweet tooth with a box of Harvest's cult-favourite salted chocolate chip cookies this Valentine's Day. The perfect (and delightfully unexpected) accompaniment to a bouquet of roses – hint, hint – the box comes complete with beautiful packaging and wrapped with a red ribbon, ideal for those seeking a no-fuss gift. Priced at $10 for four cookies, the boxes are available for purchase in-store on February 13 and 14; quantities are limited so be sure to pre-order by Thursday, February 11.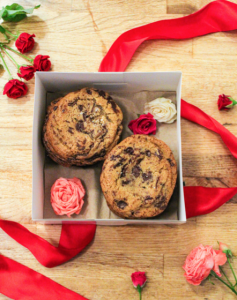 Of course, you need not restrict your CSA buys to special holidays. The locally based boxes are available year-round, either as a single purchase, bi-weekly for multiple weeks or through an entire season. Each box costs $35 and is portioned for two people, with previous inclusions sourced from North Arms Farms, Hazelmere Organic Farms and other Lower Mainland producers. To place an order, sign up for Harvest's biweekly newsletter (link above) you'll receive a sneak peek of upcoming boxes, as well as custom recipes tailored to featured ingredients.
"There's no better way to spoil your loved ones than by cooking him or her a nourishing meal from the heart," says Gabriella Meyer, chef and partner at Harvest Community Foods. "Our curated CSA boxes make it easy for people to either cook an impressive meal for their Valentine, or gift them with the best cookies in the city. Either way, your favourite person is sure to feel special!"
Harvest Communuty Foods is located at 243 Union Street, Vancouver, BC. For more information, visit Harvestunion.ca.