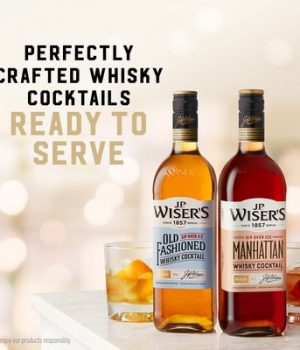 Corby Spirit and Wine Limited is making it simpler for home bartenders to perfect classic cocktails with the launch of its latest ready-to-serve offering, J.P. Wiser's Manhattan Whisky Cocktail.
"The Manhattan is one of the all-time greats in the pantheon of cocktails," says Dr. Don Livermore, Master Blender at J.P. Wiser's. "We have finely crafted this Manhattan with quality whisky, vermouth and natural flavours to match what you could get at the finest cocktail bars, but you'll be enjoying it in the comfort of your home."
When Canadians search for cocktails online, the Manhattan is one of the most sought. It's an approachable, delicious cocktail found on most bar menus. The release of the J.P. Wiser's Manhattan Whisky Cocktail follows the successful launch of J.P. Wiser's Old Fashioned Whisky Cocktail last year.
"We heard from consumers that they were interested in making classic cocktails at home, but either they didn't have the right ingredients or the confidence that they could in fact make them," says Vanessa Clarke, Senior Brand Manager, Canadian Whisky. "We are thrilled to provide people the opportunity to share this cocktail at home in three simple steps."
How to Drink Your J.P. Wiser's Manhattan Whisky Cocktail:
Pour over ice.
Stir
Garnish with a maraschino cherry.