The last year and a half has changed us all and this is especially true for the team at TIME Family of Wines. The downtown Penticton winery was purchased by new owners Ron and Shelley Mayert and has undertaken several projects as well as a new look to set the tone for exciting times ahead.
TIME's characteristic premium quality and attention to detail continues, with many new additions to the portfolio, including a new brand. TIME Family Wines is excited to introduce Chronos to their premium BC VQA portfolio. Chronos, aptly named after the Greek primordial god of time.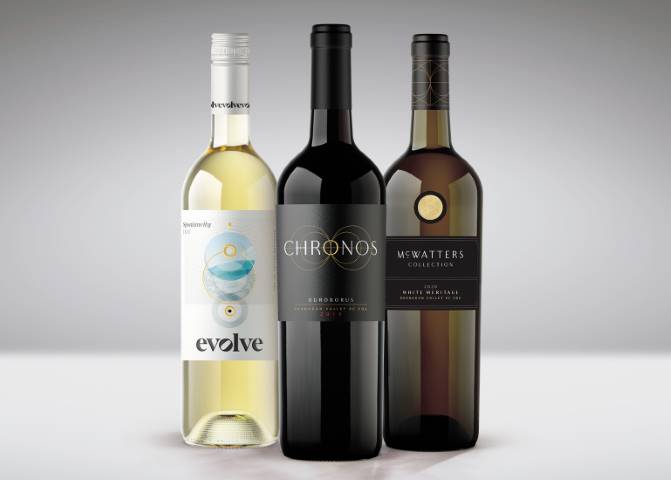 This collection of wines was created for lovers of pure Okanagan Terroir. Wine enthusiasts who value wines crafted with depth, complexity, and character. The Chronos line will include Chronos Chardonnay, Riesling, Rosé, Sémillon, Sauvignon Blanc, and the red blend Ouroboros.
In addition to Chronos, Evolve Cellars has received a visual refresh that includes a light, casual aesthetic and two new wines, the white blend Spontaneity and the red blend Momento. All Evolve Cellars wines are supple with a zippy zing and offer the purest expressions of varietals to awaken the five senses into celebrations of every moment.
The McWatters Collection remains the legacy brand with a limited series of wines that reflect the philosophy of their namesake; Harry McWatters. These ultra-premium wines are as luxurious and refined as is their new packaging and appropriately include a tribute to Harry McWatters on each bottle. The new vintage will also include the addition of a White Meritage to the portfolio.
The brand refresh is revealed just as the 2020 wines are released in the tasting room and on shelves across the country. The 2020 vintage are the first wines fully crafted by winemaker Lynzee Schatz, who joined the TIME family in 2019. Schatz's focus has been to elevate the character of each brand, enhancing their unique flavour profiles and authentic expression of the varietal.
In addition to new wines and a new look, TIME Family of Wines is expanding its physical space in the coming months with a new epicurean experience named Orolo, formerly TIME Kitchen. The expansion also includes two new private meeting and dining spaces; the PenMar and McWatters Legacy Suites. A rooftop patio like no other in the Okanagan will follow in 2022.
Finally, TIME Family of Wines is very excited to announce the opening of a satellite experience centre at The District Wine Village in Oliver, BC later this fall. The newly opened District Wine Village is the first true wine village in Canada. Located in the heart of the South Okanagan, the Village is surrounded by vineyards and home to 16 artisan producers including TIME Family of Wines.
This presents TIME Family of Wine enthusiasts with a four-season opportunity to meet, taste and enjoy local events and experiences.
"We felt that with everything our team has been through in the last two years, a brand refresh would be the final touch for the new phase at TIME Family of Wines,´ says Christa-Lee McWatters, general manager of TIME Family of Wines. "We hope the fans of TIME wines are excited about Chronos and that you all come to see our new space when Orolo and The District Village location open its doors. We are looking forward to what is to come!"