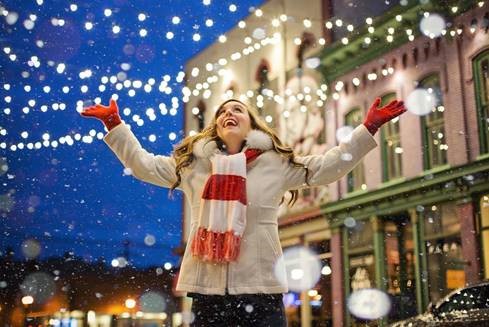 It's the most wonderful time of the year, and it's clear to see why, with hundreds of thousands of Canadians searching for holiday-related items according to trends data provider SEMrush.
Pulling the most searched-for artists, holiday movies, recipes, songs, gifts and general Christmas-themed items leading up to the season, SEMrush has created the ultimate guide to understanding Canadian preferences when it comes to celebrating the holidays.
Artists
Canadians may remain loyal to the classics when it comes to holiday musicians and artists, but they also seem to prefer a country cover of their favourite Christmas songs. Not surprisingly, Mariah Carey tops the charts with an average search volume of 110,000 leading up to the holidays, but the colloquial Queen of Christmas is followed closely by Queen of Country, Dolly Parton, with 25% fewer searches.
Country singer Garth Brooks tied for fifth place with the legendary Frank Sinatra, both with 41,300 average searches leading up to the holidays. The top-10 list contains 18% country singers, 45% classic artists such as Bing Crosby and Doris Day and 36% modern artists, including acapella group Pentatonix and rock/instrumental group Trans Siberian Orchestra.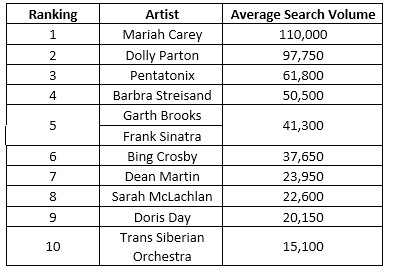 Holiday Movies
Each year, holiday movie-related searches spike by an average of 267% over November and December—439% in December alone—when compared to the rest of the year. Home Alone tops the charts as Canada's most searched-for flick, with 153,250 searches in the months leading up to the holidays, 36% more than the next on the list, Love Actually.
Interestingly, SEMrush data reveals proof that many Canadians consider a few non-holiday movies as must-watches for the season. Die Hard saw a spike of 372% in December compared to its average monthly searches and comes in as the fourth most searched-for film during the holiday season.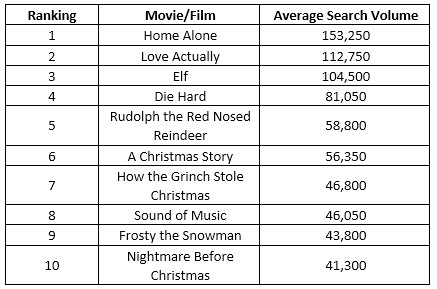 Holiday Recipes
Some people are excited to see family and friends over the holidays, but some are most excited about their traditional Christmas dinner. Sweets are on the mind for Canadians, with baked goods and treats making up 50% of the top searched-for recipes. Shortbread cookies top the list, followed by recipes for eggnog, a staple of the season.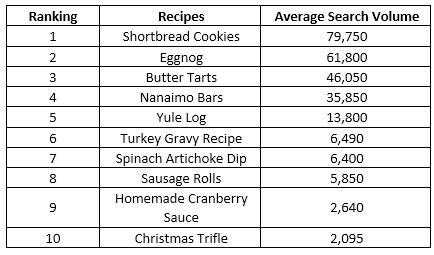 General Items
The holiday season is full of festive experiences and traditions, but what do Canadians care most about to set the mood for the season? Christmas markets are the most searched-for item, followed by "Christmas songs," "Christmas tree" and "Christmas movies."  Music and song searches take 20% of the list, with 30% of searches dedicated to décor items.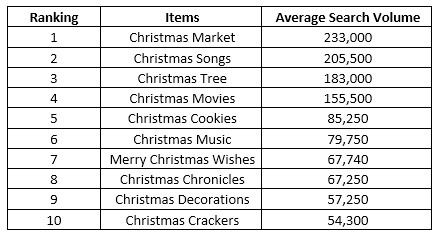 For more information visit SEMrush.com.
About the data: "Average search volume" relates to the average number of total searches between November and December 2018, capturing Canadian priorities and preferences leading up to the season.