Lancôme carried out its first harvest of Centifolia roses, cultivated at its estate located in Grasse, the world's perfumery capital. Owner of Domaine de la Rose Lancôme since 2020, the brand cultivates organic Centifolia Roses there, among other plant and flower species.
The harvesting of Centifolia roses begin early May, at sunrise and until noon, before the flowers open. They are carried out daily by the hands of loyal and experienced teams who harvest each year. These conditions guarantee optimal freshness for the Lancôme Centifolia rose, known for its delicate green, herbaceous, fruity and luminous notes.
« On the occasion of World Biodiversity Day (tomorrow), we are happy to have completed our first harvest of roses in our estate in Grasse. The organically grown fields feature a rich biodiversity and illustrate in tangible ways Lancôme's commitments in matters of sustainability and biodiversity. Renewable agricultural practices, the cultivation of organic roses, the irrigation system aiming at near self-sufficiency in water, the ultimate objective of using all parts of the rose (zero waste) – are all proofs of our commitments in favor of biodiversity. We are proud to cultivate organic Centifolia rose in Grasse on this exceptional Ecocert- certified land. Our fields will eventually produce around 6 tons of roses per year, which will be used in future Lancôme fragrances. As part of our anchorage in Grasse, we are contributing to protecting the region's unique heritage and resources, and preserving various forms of biodiversity of this ecosystem. » – Françoise Lehmann, Lancôme Global Brand President.
THE BRAND'S ANCHORAGE IN GRASSE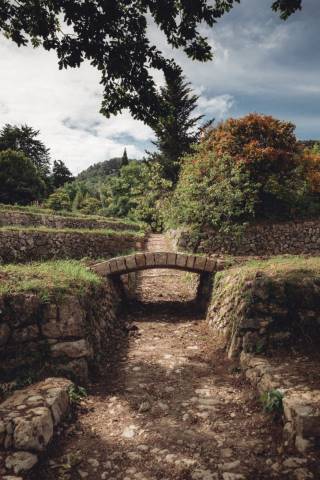 The presence of Lancôme in Grasse, the city of the Rose of May (Rose de Mai), marks in a way a return to its roots – the rose being the brand's symbol since 1935. And since April 2021, Lancôme is a member of the territorial brand Grasse Expertise, which brings together professionals from the Perfume, Aroma, Cosmetics, Health & Well-being industries that are established in the region. With this membership, Lancôme strengthens its anchorage in the Grasse region, and demonstrates its involvement and commitment to protect the region's unique treasures and promote fragrance's savoir-faire.
RENOVATIONS THAT ARE RESPECTFUL OF HERITAGE
The Domaine de la Rose Lancôme, comprised of 10 acres of organically farmed fields and century-old terraces, is crossed by two water valleys, and has been undergoing renovations since October 2020. The main objective of these renovations is to restore the agricultural site, while preserving this precious natural heritage that has been cultivated for five centuries.
The agricultural site – The terraces play an essential role in the cultivation of fragrance plants. They are the home to flora and fauna that are essential for the ecological balance, they're useful to crops and constitute natural shelters for biodiversity. Thanks to the retention of heat, they help create an exceptional microclimate that is highly favorable to the cultivation of perfume plants. This unique agricultural and architectural heritage has been restored according to the rules of the art and with great humility, in order to preserve and enhance this natural heritage, and to further develop the spontaneous biodiversity of the estate.
The agricultural site, which is crossed by two water valleys, presents an optimal hydrology by ensuring continual freshness to plants and feeds a biodiversity chain composted of reptilians and amphibians. The

irrigation system of the agricultural site has been renovated with the aim of achieving self-sufficiency in water with 90% of the water originating from the water valleys.
The purpose of the renovation works is to restore a virtuous ecosystem allowing Lancôme to continue and expand the agricultural production of perfume plants grown on the estate.
New plantations – Centifolia roses were planted between December 2020 and February 2021 and will be used in future perfumes of Maison Lancôme. Between April and June, Lancôme will plant new species including tuberose, jasmine, bitter orange and osmanthus. Beyond the existing crops which Lancôme will continue to develop, the brand will extend cultivation to emblematic plants of the Grasse region such as iris, jasmine, lavender, but also beehives as well as certain ancient aromatic plants including immortelle, verbena, in an effort to preserve and develop biodiversity. All endemic species, reintroduced to Grasse soil, come from Grasse farms.
Finally, the cultivation of trees, oaks, olive trees, plum trees and fig trees, whose roots structure the soil in order to improve its fertility and the absorption of nutrients by the plants, and which provide habitat and food for crop auxiliaries, is preserved.
BIODIVERSITY COMMITMENTS IN GRASSE
The cultivation of perfume plants in this Ecocert-certified estate is carried out according to the principles of organic farming. The objective is to maintain a high degree of biodiversity, respect living organisms and soil fertility by working with organic materials from the estate to feed the plants, and by promoting eco- grazing by sheep.
Thanks to the unique agricultural and architectural heritage components including the dry-stone century- old terraces, the water valleys, the tree crops, Lancôme's estate in Grasse presents an exceptional terroir with a rich spontaneous biodiversity, and a complete biotope.