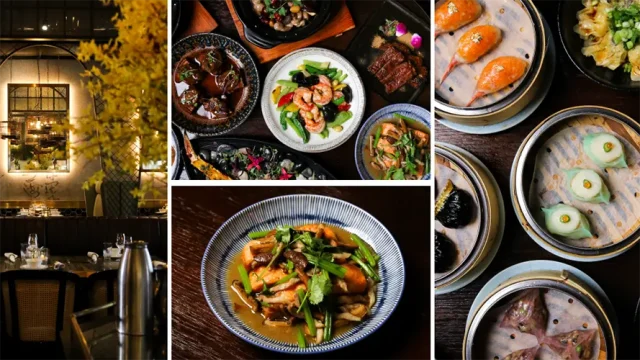 As friends and families gather to feast on the bounty of the harvest, Mott 32 Vancouver is inviting guests to embark on a culinary journey that embraces the essence of the new season. Starting Monday, October 2, the multi-award-winning modern Chinese restaurant will debut its Autumn & Winter Menu, thoughtfully curated to celebrate the richness of tradition. 

The launch of Mott 32 Vancouver's Autumn & Winter Menu coincides with the Mid-Autumn Festival, a cherished tradition in Chinese culture that dates back thousands of years. Historically observed as a time for ancient emperors to worship the harvest moon, offering prayers for bountiful harvests, favourable weather, and national prosperity. The festival has evolved into a joyous occasion for families to gather, share delightful mooncakes, and revel in the splendours of the season. 

Under the expert guidance of Mott 32 Group Executive Chef Lee Man Sing, in collaboration with Vancouver Executive Chef Hong Wei He, the Autumn & Winter menu melds global culinary concepts as prepared with  local, seasonal ingredients, like celtuce and matsutake mushrooms. This harmonious fusion results in a selection of tantalizing dishes that epitomize the artistry and creativity of Mott 32's culinary team.

Dishes from the Autumn & Winter Menu include exciting new options such as stir-fried abalone with matsutake mushrooms and XO sauce; Kung Pao lobster with cashew nut and chili; and fresh tiger prawns stir-fried with celtuce, gingko, and chili. Enjoy a wok-fried oyster omelette with minced egg, crab roe, and cassava, or feast on the tender and succulent duck meat braised in rice wine with dates, wood-ear mushrooms and ginseng. 

Additionally, lunchtime at Mott 32 this fall and winter will feature an array of delectable new dim sum, including black cod dumplings with celtuce and miso; shredded Peking duck spring rolls with yellow garlic chives; and a pan-fried seafood buns with crabmeat, prawn, scallop, and mushroom.

A trio of new dishes can be found in the Market Seafood menu section. Chilled geoduck – one of the Pacific Northwest's most iconic seafood items – is presented with fennel and scallion oil, while a wok-fried Nova Scotia lobster is prepared with egg white and black truffle; both dishes come with the option to add on Northern Divine caviar for a decadent enhancement. Lastly, a tempting new dish of baked Alaskan King Crab leg features pumpkin and salted egg yolk.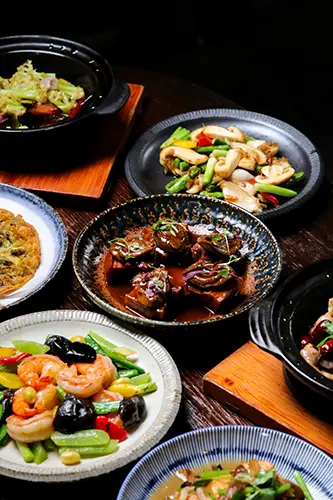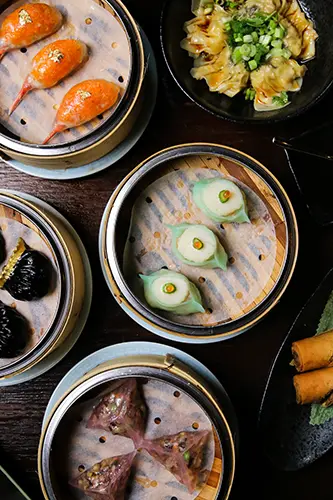 MOTT 32 VANCOUVER: AUTUMN & WINTER MENU HIGHLIGHTS

New A La Carte Dishes

Braised Dried Abalone & Pork Belly

Kung Pao Lobster, Cashew Nut, Chili

Stir-Fried Abalone, Matsutake Mushroom, XO Sauce

Braised Duck, Dates, Wood-ear Mushroom, Ginseng, Rice Wine

Stir-Fried Fresh Tiger Prawns, Celtuce, Gingko, Wood-ear Mushroom, Chili

Wok-Fried Oyster Omelette, Minced Egg, Crab Roe, Cassava

Pan Seared Salmon, Pork, Chaozhou Style

Wok-Fried Cauliflower, Fukien Sausage, Garlic, Chili

New Dim Sum Selections on the Lunch Menu

Scallop Dumplings, Celtuce, Prawn, Northern Divine Caviar

Crab Meat, Scallop, Flying Fish Roe, Egg White Dumplings

Black Cod Dumplings, Celtuce, Miso

Szechuan Style Dumplings, Minced Pork, Chili Oil

Cheung Fun with Prawn, Crispy Rice Paper

Pan-Fried Seafood Buns, Crabmeat, Prawn, Scallop, Mushroom

Shredded Peking Duck Spring Rolls, Yellow Garlic Chives

New Market Seafood Dishes

Chilled Geoduck, Fennel, Scallion Oil (add-on: Northern Divine Caviar)

 Wok-Fried Nova Scotia Lobster, Egg White, Black Truffle (add-on: Northern Divine Caviar)

Baked Alaskan King Crab Leg, Pumpkin, Salted Egg Yolk