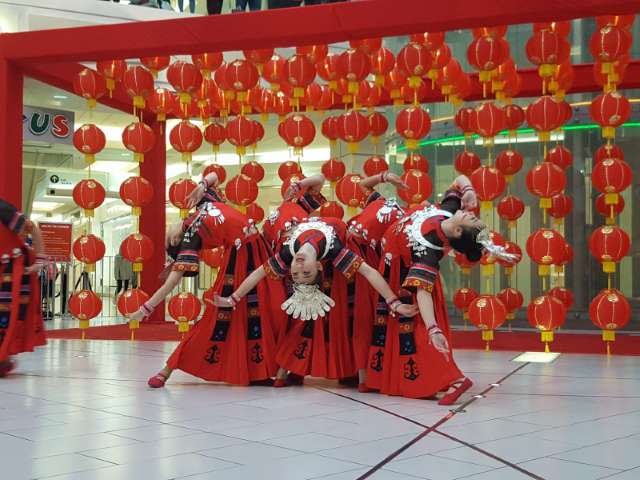 Metropolis at Metrotown is helping shoppers prepare for an auspicious Chinese Lunar New Year. Starting January 22, and running through February 5, 2023, the largest shopping centre in BC will usher in the Year of the Rabbit with cultural workshops, live entertainment and atmospheric décor.
Encourage a favourable start to the year by experiencing these eight lucky Year of the Rabbit activities at Metropolis at Metrotown:
Learn the intricacies of traditional Chinese art. Certain art forms have been practiced in Chinese culture for thousands of years. During Lunar New Year, Metropolis at Metrotown will host a variety of art workshops, including calligraphy and paper cutting, for shoppers of all ages.
Marvel at dazzling dance performances. Every Friday, Saturday and Sunday during Lunar New Year celebrations, cultural dance troupes will mesmerize audiences with visual storytelling.
Watch a fiery Lion Dance. The lion dance is performed to ensure prosperity and good luck for the upcoming year. Hosted by performers of all ages, the lion dance at Metropolis at Metrotown will bless the shopping centre, along with retailers and shoppers, on January 25 at 10am.
Snap a photo with the God of Wealth. Tsai Shen Yeh, or the God of Wealth, will bring good fortune and blessings to shoppers, who can take a photo with the deity as a lucky souvenir.
Indulge in delectable Chinese cuisine. Chef Tony's Dim Sum and T&T Supermarket, both located at Metropolis at Metrotown, serve authentic Chinese fare. During Lunar New Year, shoppers can sample a snack box with seeds, candy and lotus, or shop at Tong Ren Tang for traditional Chinese herbs.
Spin for lucky money. Shoppers who spend $188 or more (before tax; must present same-day receipt) can test their luck by spinning a wheel to win a $20 gift card from Metropolis at Metrotown, T&T Supermarket, Walmart, Real Canadian Superstore or Hudson's Bay Company. Spin again to earn a wish for good health, prosperity or fortune, along with a surprise gift box. Bonus: any shopper who visits Metropolis at Metrotown during Lunar New Year can enter to win one of three gift cards for $888.
Give back to increase your own good fortune. For every shopper who spins the wheel for lucky money, Metropolis at Metrotown will donate $5 to Angels on Earth Society. The Burnaby- based charity provides cultural education to students at no cost, with a focus on different elements of Chinese culture.
Embrace the ambience with Lunar New Year displays. While shopping at Metropolis at Metrotown during Lunar New Year festivities, visitors will wander among cheerful lanterns and delicate cherry blossoms.
"We're thrilled to offer a vibrant lineup of cultural workshops and entertainment at Metropolis at Metrotown as we prepare to welcome the Year of the Rabbit," said Amanda Chung, marketing manager. "People from all cultures can participate in, and learn about, Chinese Lunar New Year at our cultural celebration hub. Join us to engage in activities that will promote a prosperous and promising year ahead!"
Chinese Lunar New Year celebrations at Metropolis at Metrotown run from January 22 to February 5, 2023. The shopping centre is open Monday to Saturday, 10am – 9pm, and Sunday, 11am – 7pm. For more information, visit www.metropolisatmetrotown.com.