Learning to taste wine is similar to learning how to really appreciate music or art, the thrill you experience comes from the effort you put into it – like many things in life. Fine tuning your sensory abilities will help you better understand, and enjoy, every little detail that a great wine expresses. We have put together a list of wines to help kickstart a beginners journey into the wine world.

Kressmann Selection Chardonnay
Kressmann wine company was founded in 1871 by Edouard Kressmann, a pioneer of oenology and blended wines in Bordeaux. In 1897, he was already creating highly acclaimed brands that were exported around the world. The brand continues to reflect these years of experience creating premium, branded wines. Our winemakers work closely with growers to select only the best wine parcels, which are then carefully blended in our cellars to create elegant, fruit-driven wines
Winemaker's Notes: Kressmann Sélection reflects the increasing global demand for single varietal, easy-drinking, great value wines. Elegant, well-balanced and consistent in style, this reliable brand inspires consumer confidence vintage after vintage. The perfect choice to liven any social occasion, from pre-dinner drinks or a barbecue, to a meal with family and friends.
Tasting Notes: Kressmann Sélection Chardonnay is a wine of great harmony and freshness. Lovely bright yellow in colour with floral, fruity aromas, on the palate the wine is well-balanced and nervous, offering attractive, complex flavours. Pair with cream-based pasta or seafood.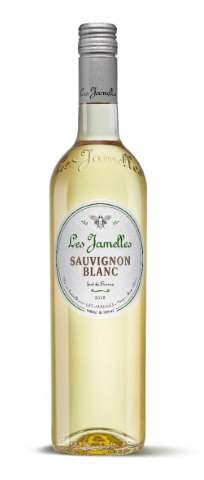 Les Jamelles wines make up one of the largest collections of varietal wines from the south of France and are enjoyed in over 40 countries. They are renowned for their exceptional value for the money and pleasure factor, their wide appeal, and the fact that they can be enjoyed on all occasions.
Winemaker's Notes: The grapes are harvested in the morning, before daybreak. They are then transported rapidly to the winery to be pressed. Alcoholic fermentation takes place quickly in stainless steel tanks with temperatures maintained between 18 and 20°C. Ageing on fine lees at low temperatures in a carbonic environment is brief, lasting just a few months. There is no malolactic fermentation so that the wine preserves all of its freshness.
Tasting Notes: With a lovely pale colour, Les Jamelles Sauvignon Blanc is taut and aromatic with flavours of fruit (passion fruit, wild strawberry), citrus (pink grapefruit, lemon) along with vegetal notes (green tomato). Enjoy with white fish such as grilled cod, or chicken.

Ménage à Trois California Red Wine
When it comes to wine, Ménage à Trois believes the more the merrier. Their winemakers play matchmaker, bringing together ripe, luscious flavours, alluring aromas, and sensual textures to create our collection of fun, flirtatious wines.
Winemaker's Notes: To add complexity and retain character, each variety was fermented separately, then blended together prior to bottling. On top is Zinfandel, a saucy tease that brings blackberry and raspberry jam to the relationship. Merlot, with its generous mouthfeel and red fruits, fits perfectly in the middle. The rich flavours and firm tannins of Cabernet Sauvignon make it the ideal candidate for the bottom layer of the trio.
Tasting Notes: This Red Blend exposes the fresh, ripe, jam like fruit that is the calling card of California wine. Forward, silky and soft, this delicious dalliance makes the perfect accompaniment for grilled meats and chicken.