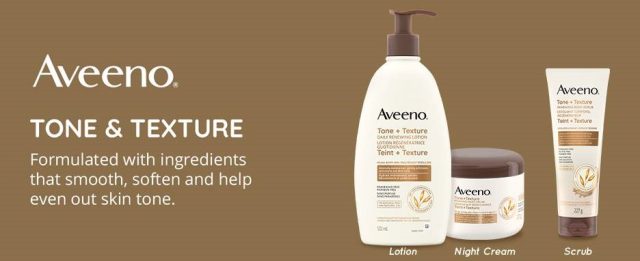 From dry and scaly to rough and bumpy skin, people of color may be more prone to certain conditions that affect the skin like keratosis pilaris, a condition causing small, rough bumps to appear on the skin. Hyperpigmentation is also common in dark skin – a skin condition where dark spots or patches appear due to excess melanin, unbalanced skin texture or lack of hydration in the skin.
This year, Aveeno® Canada has introduced a new collection to help visibly improve bumpy skin (Even KP), roughness, and uneven skin tone. Reveal softer, smoother skin after just one use, and more even skin tone in just one week with the Aveeno® Tone & Texture line-up. Aveeno's Tone & Texture collection is formulated with natural PHA, pro-vitamin B3 and prebiotic oat to moisturize, gently exfoliate and visibly even out skin tone, revealing softer, smoother skin.
Aveeno® Tone + Texture Daily Renewing Lotion, gently exfoliates, hydrates and moisturizes dry skin all day long while smoothing rough skin.
Aveeno® Tone + Texture Renewing Night Cream, gently softens, and smooths skin while deeply nourishing all night long and visibly improving bumpy skin.