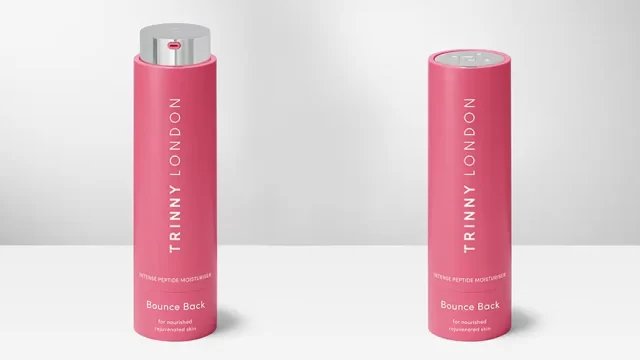 "Our two moisturisers are skincare overachievers – they absorb incredibly easily and feel sumptuous, like a supercharged shot of hydration for your skin. More than just moisturisers, our highly active formulations will bring your skin back to life" – Trinny Woodall, CEO & Founder
Moisturisers are fundamental to any skincare routine – so why not choose one that goes beyond just hydration? Trinny London's two luxurious formulations are packed full of active ingredients that recharge and restore, bringing life back to your skin. They're so much more than just a tall glass of water for your skin…
Bounce Back Intense Peptide Moisturiser:
Bounce back to your best skin with this youth-boosting medley of actives. Powered by peptides and hyaluronic acid, this high-performing formulation visibly smooths wrinkles and brings vibrancy back to your complexion. It comforts like a nurturing hug, helping to improve your skin's response to stress, making it more resilient over time. Skin feels plump, bouncy and full of life.
How it works:
Trinny London's high-tech 4-peptide complex works to increase skin elasticity and firmness, while phytosphingosine firms and smooths from the inside out, helping to prevent the breakdown of collagen and reinforcing the supportive structure between your epidermis and dermis. Beta-glucan and glucoside bioactives help your skin respond better to stresses over time and hyaluronic acid is a big jug of water for thirsty skin – boosting hydration and restoring plumpness.
Skin goal:                   Nourished, rejuvenated skin
Skin type:                   Normal to dry
Targets:                      Wrinkles + loss of firmness
Good to know:           Perfect for skin feeling its age
Energise Me Niacinamide Moisturiser:
Recharge and rebalance stressed skin with this highly active hydrator. Powered by skin-boosting niacinamide, this lightweight formulation helps to balance excess oil and even tone and texture. Over time, skin is better equipped to respond to daily stresses leaving it clear, hydrated and wide awake. Get used to good skin days…
How it works:
Powerhouse niacinamide is known to even your skin's tone and reduce excess oil, meaning fewer blemishes while chlorella vulgaris extract helps to balance the microbiome – hello calmer-feeling and clear-looking skin. Succinic acid helps to wake up and energise tired skin by boosting the energy of sluggish skin cells, while gentle asiaticoside (famously known as cica) is there to help your skin recover from breakouts. Superstar hydrator, hyaluronic acid, quenches the skin with a happy side effect of plumping and visibly smoothing fine lines – hydrating for an impressive 24 hours.
Skin goal:                   Recharged, balanced skin
Skin type:                   Normal to oily
Targets:                      Dehydration + congestion
Good to know:           Perfect for stressed + tired skin