Enhance Arts Aesthetics & Spa, Vancouver's premier self-care and aesthetics brand, commemorated the first-year anniversary of its Yaletown location with an exclusive event at the Opus Hotel Lounge on Thursday, May 18th. The evening celebrated local brands and brought together an inspiring community of Vancouver influencers, tastemakers, and industry leaders.
Linda and Tila Huynh, the founders of Enhance Arts, electrified the crowd by revealing their plans to launch a third location in Toronto in late 2023. "When we opened our first Enhance Arts location in 2021, our aim was to provide a haven where individuals could prioritize rest and relaxation for well-being and overall confidence," explained Linda and Tila. "You, our clients and friends, have told us that we've made an impact on the Vancouver community, and we're excited to announce that we are broadening our reach to Toronto."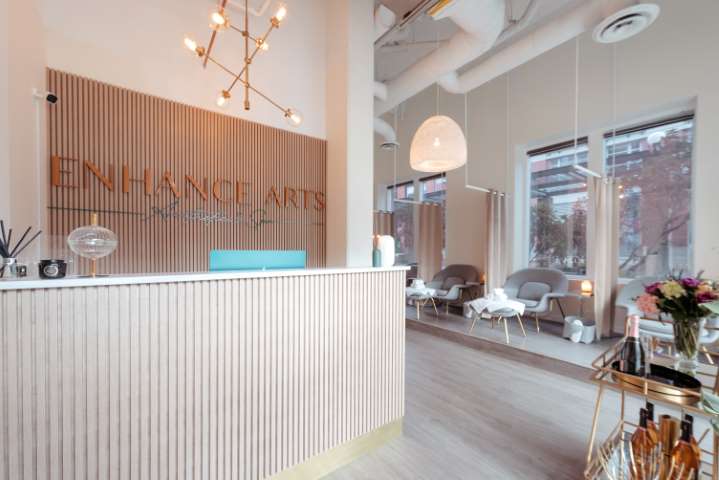 The opening of Enhance Arts' third location in Toronto in the last quarter of 2023 marks a significant milestone for the brand as it continues to provide high-quality self-care services to clients across Canada. Toronto, one of Canada's most vibrant and diverse cities, renowned for its bustling downtown core, world-class restaurants, and cultural diversity, presents the ideal location for Enhance Arts.
"During the Covid-19 pandemic, we noticed that there was a gap in high-quality, full-service spa and aesthetics spaces offered at a price point that was more affordable than luxury hotel spas," they added. "We designed Enhance Arts to be an oasis from today's fast-paced digital society, where self-care is seen as a necessity, not a luxury, complete with service prices that reflect this."
The expansion to Toronto allows Enhance Arts to offer its services to even more Canadians, providing affordable and accessible self-care options to residents of the city. With its focus on mental and physical well-being, Enhance Arts aims to revolutionize the self-care industry and provide clients with a comprehensive self-care experience promoting overall wellness and confidence. The Toronto location will offer the same high-quality services that clients have come to expect from Enhance Arts, including facials, massages, reflexology, and aesthetics, all at an attainable price point.
"Self-care transcends healthy eating and activity," said Linda and Tila. "Enhance Arts is about giving clients a boost of confidence or the opportunity to relax with a comprehensive self-care experience."
As Enhance Arts expands to its third location in Toronto, it remains committed to providing an exceptional self-care experience that promotes mental and physical well-being. With a focus on affordability, accessibility, and innovation, Enhance Arts is well-positioned to revolutionize the self-care industry and bring its diverse services to clients across Canada. The expansion is a testament to Enhance Arts' success in Vancouver and its unwavering commitment to enriching and enhancing the lives of Canadians.
For more information about Enhance Arts, please visit www.enhancearts.ca.