As the seasons change, so do our hairstyles. Stylists are unanimous: this winter, it's time to go brunette! If you want to get the It Girl look when the weather turns cold, opt for a rich brown shade with intense, durable reflexes. Take your pick from an assortment of luxe on-trend hues, from chocolate mousse, to freshly brewed coffee, to warm mahogany.
Mayraki Professional, a leading vegan hair care brand, offers a natural gray hair treatment that will help your roots to be as dark as they used to and elevate your overall hair condition. Try it for a fashionable, youthful look!
What is an expensive brunette trend?
It all started with Hailey Bieber going from famously blond to spectacularly brunette, and now, every day more and more celebrities are showing their support for the seasonal switch for deeper shades. In addition to that, several Gen Z TikTok influencers made viral predictions that blonde hair has passed its moment, calling it "uncool" and "cheugy"'. While we believe blonde or brunette locks are a timeless classic that never goes out of style, it's always fun to switch it up and experiment with new looks.
Another reason to go for an 'expensive brunette' look is to give your hair a much-needed break from bleaching and chemical processes to get perfect, always-blonde hair. Follow in the footsteps of gorgeous Blake Lively, Sophia Richie, and Gigi Hadid, who have already decided to go brunette and embrace their natural hair: Grow out your dark roots and use multiple shades of hair dye to achieve the dreamy, deep brunette look.
Embrace your natural beauty
Global lockdown made us realize that high-maintenance colors don't necessarily go well with our own well-being. It gave us a chance to celebrate and embrace our natural, unique beauty. If your hair is naturally dark, following the expensive brunette trend will help you look great, limit your hairstylist appointments, and improve the condition of your hair.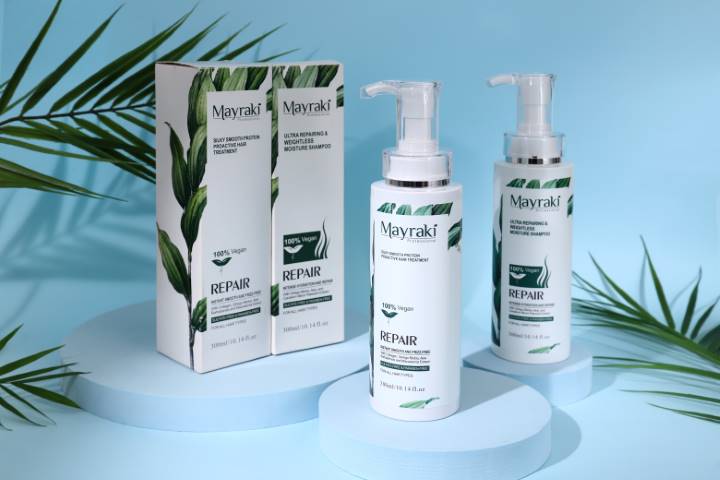 How to reach the perfect shade
If you don't feel like going to your hairstylist, no worries, we've got you covered. Mayraki Professional has a variety of products that can support your hair color journey:
The Mayraki Anti-Gray Hair Color Restoring Treatment helps to rejuvenate hair cells and re-pigment the hair root to tip with patented active ingredients that boost melanin production and promote the stimulation of blood circulation. This formulation increases the melanin synthesis and boosts the melanin transfer from our scalp to hair, reversing the greying. Safe for all types of hair, the formula also contains nourishing properties that moisturize the hair and make it appear and feel more youthful, shiny, and voluminous.
Gray Coverage Permanent Hair Color Dye Shampoo is a combination of shampoo and a hair coloring treatment in one. This permanent shampoo-type hair dye delivers beautiful, evenly colored hair with its non-drip, conditioning formula. It's specifically designed to offer color and treatment to hair in a reduced leave-in time of just 40 minutes. No need for a brush and bowl. Just lather it in your hair, wait, then rinse. It comes in five gorgeous shades—for this winter we enthusiastically recommend the Dark Golden Brown.
Trendy hair = healthy hair
No matter which style you choose, you should take some time to look after the condition of your precious locks. Coloring can damage your hair, making it look brittle and lifeless. It can all be avoided if you provide them with the right products:
Ultra-repairing & Weightless Moisture Shampoo combines the power of the latest hair care technology with the nourishment of sustainably sourced natural ingredients such as gingko biloba, aloe, and canarium album leaf extract. It's the perfect shampoo for regular washing that thoroughly cleanses away the buildup on the scalp and root without stripping moisture from the strands. It nourishes the scalp and strands and repairs any signs of damage such as dryness and split ends.
Silky Smooth Proactive Hair Repairing Treatment contains essential nutrients and herbs. It's an all-natural solution able to completely transform and heal your hair. After just the first use you'll visibly notice the improvement in appearance and feel a change in the condition of your hair. The product is sulfate-free, paraben-free, and silicone-free and provides fatty acids and vitamins that actively increase the shine in your locks and rejuvenate the smooth silky texture. Restore your hair so it's healthy, strong, and bouncy as you continue to use the product.