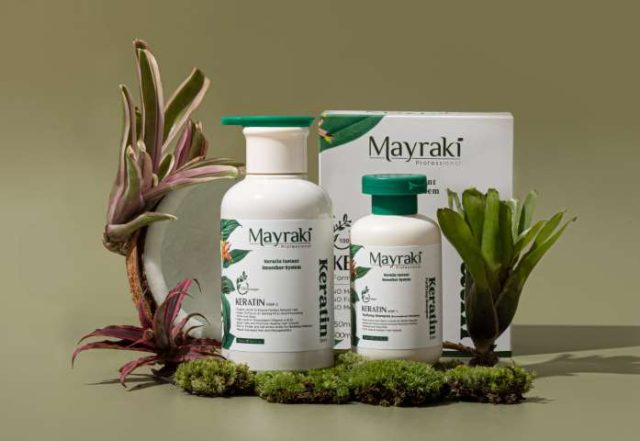 Keratin hair treatments have been at the centre of ongoing controversy in the beauty industry for their harmful side effects. While these treatments offer a potent hair straightening and frizz reduction solution, salon keratin treatments have long been associated with an array of unwanted risks, from increased hair loss and scalp irritation to other longer-term health issues. In the search for healthy, smooth locks, customers don't have to compromise on safety for the sake of effectiveness any longer. The team of hair professionals and herbalists behind Mayraki Professional have created a 100% vegan, sustainably sourced hair treatment formulated with natural hydrolyzed keratin. This breakthrough treatment is free from any potentially harmful chemicals and produces salon-quality results while being safe for at-home use. 
The main concern surrounding professional keratin treatments is the presence of formaldehyde or other formaldehyde-releasing. Numerous studies have shown that formaldehyde exposure is linked to adverse health effects, such as dizziness, irritation, headache, allergies and more. The Cosmetic Ingredient Review Expert Panel has set the maximum safe concentration of formaldehyde for beauty products at less than 0.2%. However, some Brazilian keratin treatments may contain much higher levels — in some cases, more than five times higher — than the recommended level. The concentration increases even further during the flat-ironing part of the treatment, making it especially harmful to salon workers constantly exposed to these chemicals.
"Keratin treatments have quickly become a popular salon treatment because of their amazing benefits. The simple version of how it works is by coating the hair shaft with a protein called keratin that acts as a smoothing and protective agent. This coating protects the hair from physical and environmental damage, as well as strengthening and thickening the hair strands, smoothing down frizz and creating brilliant shine. It's great to get keratin treatments every three to six months to maintain optimal hair health," shares Eliza Pineda, Mayraki Professional's in-house haircare specialist.
"However, not all keratin treatments are made equal. Salon-grade keratin treatments usually contain formaldehyde and other toxic chemicals that severely damage hair and are dangerous for your health. Since keratin also comes primarily from animal sources, these treatments are non-vegan and can be toxic to handle.
The Mayraki Hydrolyzed Keratin Instant Smoother System is meticulously formulated to be a safer natural alternative to salon-grade keratin treatments. Free from formaldehyde and other harmful chemicals, the treatment is made exclusively from premium organic vegan ingredients. Having successfully passed rigorous lab testing, the Mayraki Hydrolyzed Keratin Instant Smoother System has proven itself to be safe for all hair types, including color-treated hair, as well as for a sensitive scalp or skin and during pregnancy.
Mayraki's unique formula is designed to be much gentler on hair than salon-grade keratin, yet just as effective at combating frizz and unruliness to leave hair silky, soft and shiny. Mayraki's natural hydrolyzed keratin dives right into each hair follicle and injects the porous areas with keratin, an essential hair protein. After just one treatment, hair appears smoother and healthier. Natural hydrolyzed keratin bonds to hair, creating a protective layer around each strand to effectively diminish frizz, seal the cuticle and protect hair against external damage.