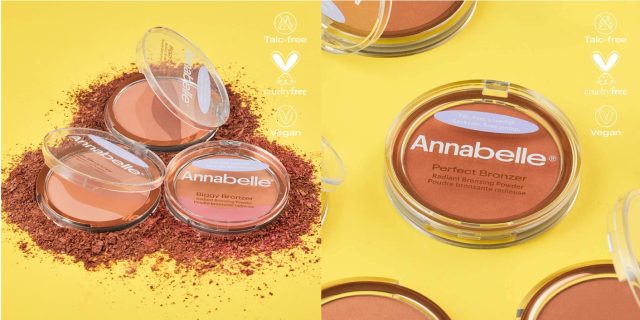 Introducing Annabelle's Perfect and Biggy Bronzers: the ultimate secret to achieving a stunning sun-kissed glow this summer! Whether you desire a subtle hint of warmth or a bold, bronzed look, Annabelle's bronzers are here to make your glowy dreams come true. With their smooth, blendable formulas and a range of shades to suit every skin tone, these bronzers are your go-to companions for creating a radiant, sunlit complexion that will turn heads wherever you go.
Biggy Bronzer – $13.95
Bronze, shimmer and blush all over! With a bronzer, blush and highlighter, this is the perfect all-in-one powder for a quick glow-up. Made with coconut oil & aloe, the perfect buttery formula to get a golden look. Mix all of the layers for an overall sun-kissed look, or select specific layers with a smaller brush for precise results. Available in 3 different shades.
Perfect Bronzer – $10.95
Silky, pigmented and buildable, the Perfect Bronzer is the perfect affordable year-long glow-getter! Offering a beautiful, natural and healthy glow to your complexion instantly!
Available in 6 different shades to suit all skin tones.
Both bronzers are vegan, cruelty-free, talc-free, and paraben free.
Shop Annabelle online at Amazon.ca or at your local drugstore.