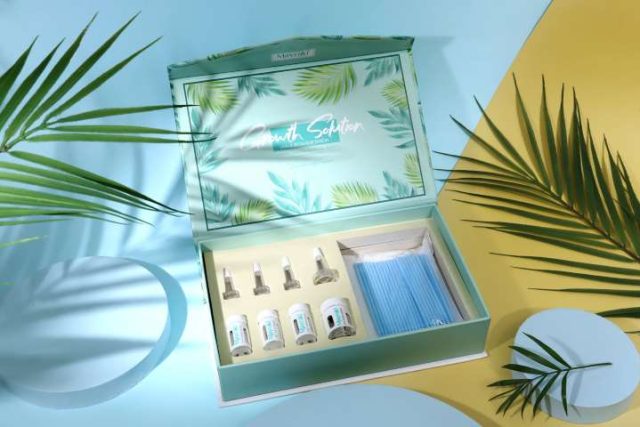 Ultimate Lash and Brow Spa
We all know that moms have a tendency to dedicate all of their time and energy to caring about their families while neglecting their own self-care needs. Restore balance and boost your mom's beauty routine by giving her the gift of Mayraki Lash & Brow Restoration Growth Solution, a natural topical treatment that improves length and thickness of lashes and eyebrows, as well as preventing premature fallout. Developed by a specialist team of herbalists and hair professionals, this growth solution contains a blend of peptides and botanicals to create a naturally powerful formula that offers maximum strength and proven results. Infused with nutrients vital to lash health, the solution promotes the production of keratin genes in our hair follicles, which is a key structural component of healthy brows and lashes.
Say Goodbye to Gray Hair the Natural Way
Gray hair can crop up at any stage of your life, depending on many factors such as stress, aging and genetics. As we age, our natural melatonin production decreases, which results in graying locks. If your mum has been searching for a solution to bring back her natural hair color without having to dye it every two weeks, introduce her to Mayraki's Anti Grey Restoring Treatment. Thanks to its unique patented formula harnessing the benefits of polygonum multiflorum root extract, this anti-gray hair treatment restores the natural color of hair without having to resort to dyes and pigments, providing a safe, non-irritating, long-term alternative to artificial root cover-ups. This thoughtful gift is the ideal way to surprise your mom this Mother's Day, and even repay her for the gray stress hairs you might have caused her!
Amp Up the Volume
For a true pampering session, give your mum the gift of two of Mayraki Professional's best selling products: Hair Growth Serum and Ultimate Botanical Moisturizing Hair Oil. The Hair Growth Serum Intense with Copper Peptide is formulated with all-natural ingredients designed to visibly thicken and strengthen strands to prevent hair loss and encourage new growth. To maximize the benefits, combine the serum with Mayraki Ultimate Botanical Moisturizing Hair Oil. This professional solution contains a blend of 16 precious natural plant oils to restore hair to a more nourished, youthful look!