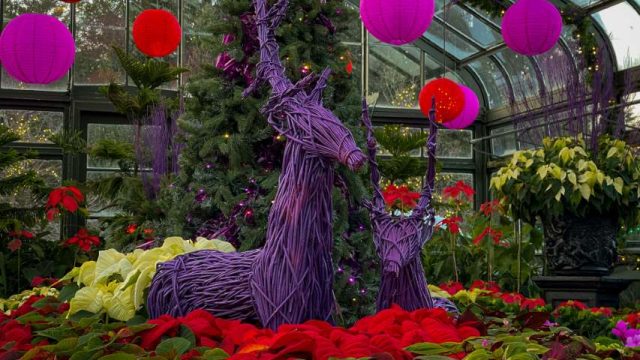 A fond holiday tradition in Niagara for over 75 years, the Annual Poinsettia Show is now open at the Niagara Parks Floral Showhouse. This iconic show features traditional holiday landscapes with modern touches of brilliant colours and lights that make the warmth and magic of the holiday season come to life, a special highlight not to be missed during the 40th annual Niagara Falls Winter Festival of Lights.
The Niagara Parks horticultural design team has selected the theme of Discovery for this year's show, in a vibrantly coloured palette of red, green, orange, blue and lavender. The stunning arrangements feature more than 1,400 poinsettias, complemented by an additional 1,000 display plants including cyclamen, caladiums and orchids.
Many other Christmas surprises are waiting around each corner for visitors of all ages to enjoy. A visit to the Floral Showhouse would not be complete without a stroll through the surrounding gardens, and their awe-inspiring lighting displays, as part the Winter Festival of Lights experience.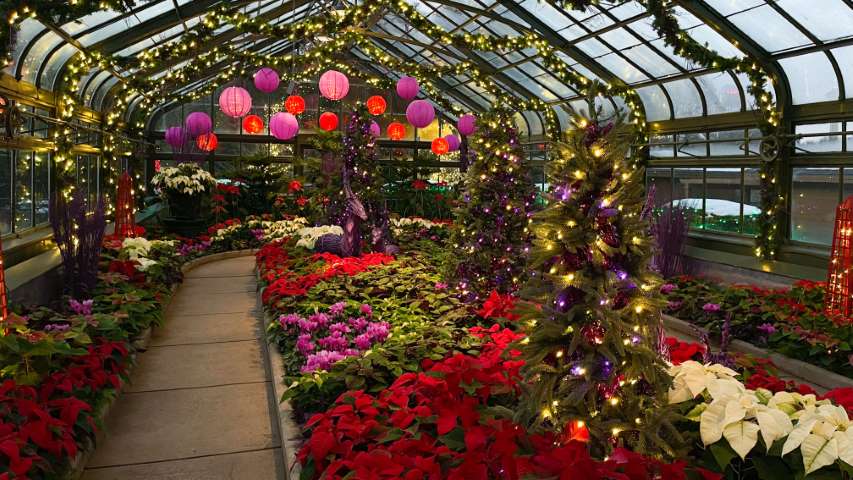 Why the Poinsettia?
Poinsettias originated in Central America and Southern Mexico, and can also be found around the equator, in tropical regions like the Canary Islands, where these colourful plants can grow as large as a tree!
The poinsettia was adopted in North America in the late 19th century, but it wasn't until the 1950s, that these plants became a household mainstay around the holidays. Today, the poinsettia is a celebrated plant, representing a symbol of good cheer and success.
About the Niagara Parks Floral Showhouse
The Niagara Parks Floral Showhouse is a lush oasis, just a short walk south of Niagara Falls and Table Rock Centre. Collections of orchids, succulents, and other tropical plant species are on display throughout the year, along with floral shows that reflect the changing seasons. With seven shows per year, something new is always in bloom.
For more information, including season passes and bundled attractions packages, please visit niagaraparks.com/poinsettiashow.
Location:
Niagara Parks Floral Showhouse
7145 Niagara Parkway, Niagara Falls, Ontario
Parking available on-site
Holiday Hours of Operation:
Open daily, through January 8, 2023
12 p.m. – 8 p.m.