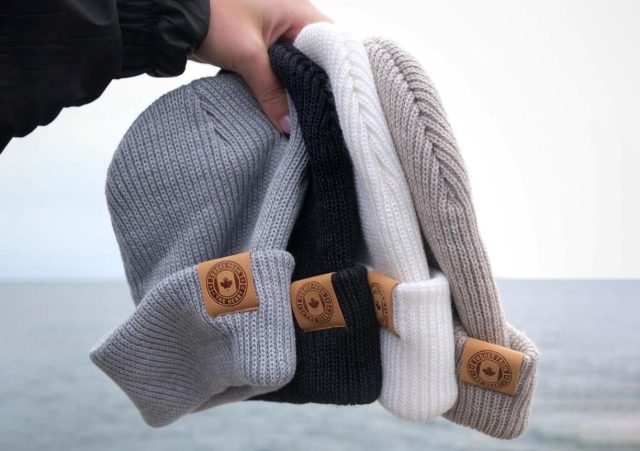 Toques from the Heart creates soft and stylish toques that make winter more comfortable for you and a Canadian in need. Not everyone has easy access to warm clothing. For every toque purchased for yourself, Toques From The Heart gives a toque to a Canadian experiencing homelessness. Created out of a mission to help those in need during the cold Canadian months, founders Casey, Matt, and Matthew have expanded their collection with three incredible lines including; Classics Toques (2.0), Merino Toques, and Hockey Team Toques. The purchase of any one of these toques brings them one step closer to achieving their mission of donating 35,000 toques this year, ensuring that we can all stay warm together.

All of the toques have been carefully crafted to be stylish enough for you to take anywhere, comfortable enough to wear all day, and warm enough to take Canadian winters head on. They all have perfectly rounded tops, an adjustable rim, and our new "stay warm together" hidden message stitched onto the back under the rim.
Classics Toques (2.0)
Your favourite toques just got better! They're softer and stretchier than ever before and designed with you in mind. Made with new and comfortable double layered ribbed knit fibers that will keep you extra warm. They also have a perfectly rounded four-panel top making this their best classic toque yet!
Merino Toques
Their newest addition to the toque family. These premium toques come in four neutral colours! Made out of merino wool, it offers a heightened level of softness and stretchiness that will make you forget you're even wearing it. To top it off, they've added a classy suede tag with a debossed logo.
Hockey Team Toques
These toques are the best way to show your favourite hockey team pride as well as give back to your community. Modelled off of a hockey sock and steamed for softness, these toques are incredibly warm, durable, and meant for cold rinks and outdoor ponds. Plus, they come with a cool pompom and patch logo.
How it all started:
Toques from the Heart was founded in 2019 by Casey, Matt, and Matthew, three McMaster University Students in Hamilton, Ontario. The three became friends and unified in a common vision to start a business with a meaningful and positive impact.
After seeing first hand the problem of homelessness in their communities and the difficulties that they face during the cold winters, Toques From The Heart set out on a mission to give toques to the approximately 35,000 Canadians that experience homelessness on any given night.
It all began with them creating their first line of toques through their unique and sustainable method of repurposing hockey socks into warm and durable toques that will survive Canadian winters. They quickly found support in the Hockey community, organizing hockey sock drives to help give them material they could upcycle to create their iconic toques.
"We were overwhelmed and excited about all the support we were getting once we launched. Seeing communities come together to help the homeless was incredible. In our first year we received thousands of hockey socks donated from communities across the GTA. During the 2020 winter season, we were able to give 2,500 toques to the homeless. This year we have set a goal to give 35,000 toques." Say's co-founder, Matthew Milne
How does Toques From The Heart help the homeless? The concept is simple- whenever someone purchases a toque, they give a toque to someone who is homeless. In other words- when you buy a toque, they give a toque. It's that simple. When you help give someone in need a toque, you're helping keep someone warm and making them feel seen. At the same time by wearing your toques with pride and supporting Toques From The Heart you're helping to bring awareness to how prevalent homelessness is in Canada.
Toques From The Heart is continuing to partner with 25 giving partners across Canada to be able to give more to those in need. This is to help support Canadians experiencing homelessness across the country in staying warm. Toques From The Heart has only scratched the surface of who they have helped and have no plans on stopping anytime soon.
Toques From The Heart is hoping to one day reach their ultimate goal-to give toques to the 35,000 Canadians that experience homelessness on any given night. After all, everyone deserves to stay warm.