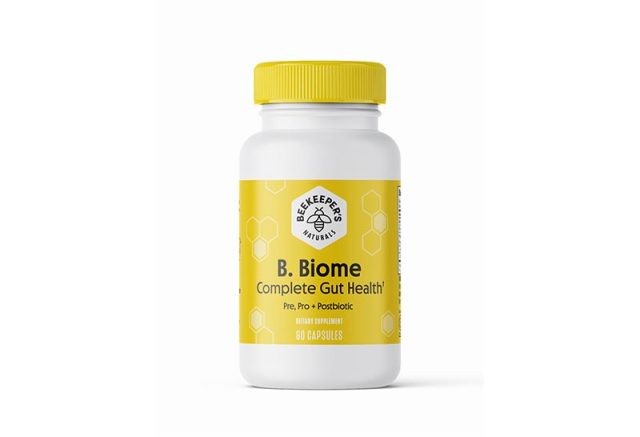 Revolutionizing the pro-active health and wellness category, Beekeeper's Naturals, announces the launch of the world's first-to-market propolis-powered gut health supplement, B. Biome Complete Gut Health. B. Biome is the first pre, pro, and post-biotic dietary supplement designed to promote clean gut health, and by extension, support both brain and immune function. With this leading innovation, this launch represents Beekeeper's Naturals next step in the brand's mission to reinvent the medicine cabinet by creating clean, effective products powered by the hive and backed by science.
Beekeeper's Naturals B. Biome is the first dietary supplement that uses a carefully curated three-tiered approach to fuel your gut, after finding that 95% of Americans do not get enough fiber in their daily diet. Each triple threat, two capsule dosage is packed with research-backed ingredients including propolis to act as a prebiotic, a spore-based probiotic MegaDuo, and a unique form of butyrate as a postbiotic Corebiome. These combined ingredients work together to ultimately balance the complex and critical environment within the gut, to mitigate bloat, improve digestive and brain health, and further boost levels of your daily fiber intake.
Beekeeper's Naturals B. Biome is available for purchase starting today for $39.99 on BeekeepersNaturals.com. Celebrity fans of the brand include Lily Collins, Drew Barrymore, Kendall & Kylie Jenner, Cameron Diaz and more.