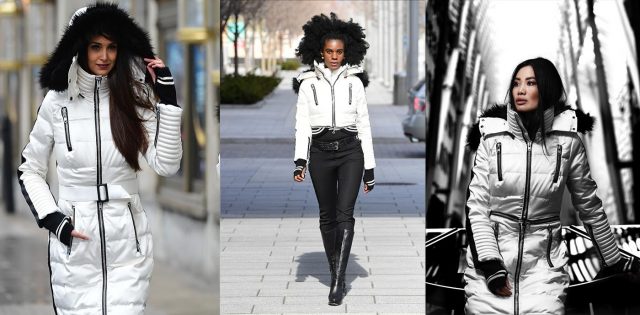 The Canadian Toronto-based fashion-tech brand Infinia Apparel launches INFINIA Smart Heated Down Jackets, an innovative and fashion-forward wearable technology line for women and men who want to look amazing while being warm in the cold winters.
Presented in Silicon Valley at San Francisco Tech Fashion Week, and pre-launched at Toronto Women's Fashion Week, "Infinia Smart Heated Down Jacket for women has an everything built-in, multifunctional, modular design, and you can wear it as a long parka, bomber jacket, a skirt, a vest, or carry it like a bag or backpack"- the designer said. Along of the warmth of the quality down filling, it offers the comfort heat of a rechargeable battery heating system, with 6 heating panels, a manual control button, and 3 levels of heat, as well. Windproof and water-repellent, the coat also has built-in gloves, hat, scarf, and it can charge your phone. Instead of the bulky winter coats available on the market, the brand proposes an innovative, body-enhancing and slimming silhouette, fitted for busy, active life-styles, offering multiple pockets, features, and functionality, for your convenience.
Infinia Apparel (www.infiniaapparel.com) designs wearable technology products line addressed to city professionals, commuters, fashion lovers, and tech fans. "Combining a stylish design and latest technology, and being inspired by the cold Canadian Winters, Infinia Apparel's vision is to develop tech-enabled clothing to make a positive change in your daily life and make you feel and look outstanding", founder said.
The Infinia Smart Heated Down Jacket will be launched on Kickstarter on March 20th, 2019. You can pre-order this high-end garment in tech and non-tech options, including animal cruelty-free lightweight polyester tech insulation versions, with vegan fur trims for animal- lovers. We have 5 versions for women and 2 for men, at different price ranges, including customized on your measurements, and in your desired colours, per request. Fabulous looks to share with your friends are just one zip away! Check it out and support Canadian Fashion