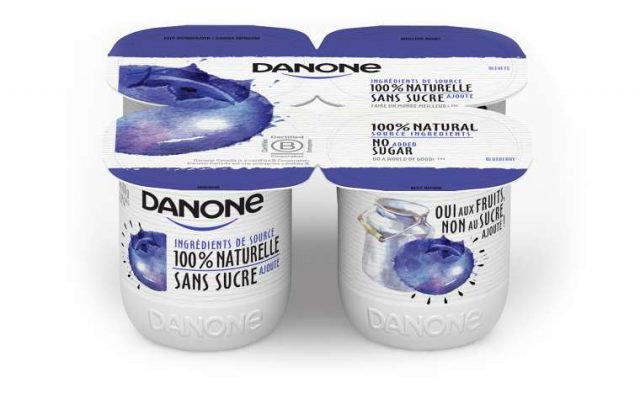 In the spirit of less is more, Danone proudly launches its first flavoured yogurt made with 100% natural source ingredients and no added sugar or artificial sweeteners.
Available in six delicious flavours – Blueberry, Cherry, Peach Mango, Raspberry, Plain and Vanilla – the new Danone-brand yogurt satisfies Canadians' growing appetite for simple, healthy food. As the first naturally flavoured yogurt in Canada with no added sugar or artificial sweeteners, it is a major step in Danone's Food Revolution, a movement aimed at nurturing the adoption of healthier and more sustainable eating and drinking habits. Drawing on the goodness of fresh milk from local dairy farmers, real fruit puree and natural flavours, as well as serving as a source of calcium, the product brings the best of what nature has to offer to the grocery aisle.
"Our new Danone-brand yogurt is our boldest commitment yet to setting the benchmark for what good food should be – simple and nutritious, with no added sugar. We want to help Canadians appreciate how delicious food can be in its natural state," said Pedro Silveira, President of Danone Canada. "As Canada's largest consumer-facing Certified B Corporation®, Danone has a responsibility to lead the way with healthy products that benefit both people and the planet, using our business as a force for good."
From Farms to Spoon: A Yogurt Made with 100% Canadian, Traceable Milk
The launch of the new Danone-brand yogurt represents an important step towards the company's commitment to sustainable agriculture. Thanks to a new partnership with Nutrinor Cooperative, 100% of the fresh milk used in this new Danone-brand yogurt is exclusively sourced from a small network of Canadian dairy farms. The partnership allows Danone to trace its fresh milk supply, giving consumers the ultimate confidence that their yogurt comes from local producers.
"Danone Canada and Nutrinor Cooperative both value sustainable farming, and collaborate to share and explore new ways of working. We know how much Canadians care about where their food comes from, and we invest that same care into developing products that are made more responsibly," added Mr. Silveira.
Giving Back to the Community
This new Danone-brand yogurt will also benefit the company's longstanding partnership with Breakfast Club of Canada. For more than 20 years, Danone has worked alongside Breakfast Club of Canada to nurture children's potential by giving them access to a nutritious breakfast in an environment that allows their self-esteem to grow and flourish. The Breakfast Club logo is featured on the new Danone-brand yogurt packaging to reinforce the company's commitment to engaging consumers in its quest to build a healthier world through food.
Ideal for Snacking and Cooking
The new Danone-brand yogurt can be enjoyed on its own or as a healthier base for muffins, soups, dips, and countless other recipes. As part of Danone's mission to bring health through food to as many people as possible, recipe ideas are featured directly on the yogurt packs. Detailed product information and recipe ideas are available at Danoneyogurt.ca.