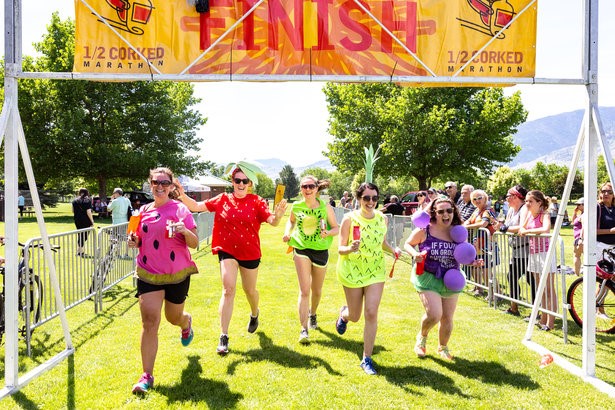 Due to the immense popularity of the annual Half Corked Marathon, organizers have announced an increase in capacity for the 2019 event, and will be releasing 100 "OMG" tickets on Tuesday March 12 at 9am.
The Half Corked Marathon, celebrating its eleventh year, sees 1,500 people travelling from across North America (and beyond) to take part, following an 18km route that weaves through the vineyards of Oliver Osoyoos Wine Country. Wineries and winery stations dot the route, offering participants the chance to savour the region's award winning wines, as well as meet some of the characters that make this region so special.
Over recent years, the event has grown into one of Canada's most loved events, winning Canada's Event of the Year at the 2017 Canadian Tourism Awards. Now encompassing a full weekend of events including Primavera, a tented, long table dinner in the vineyard on Friday May 24th, and Dinner in the Park, an intimate winemaker dinner following the race. Numerous wineries also hold events throughout the weekend – from the Tinhorn Creek concert series featuring The Matinée to Road 13's Recovery BBQ and a Pancake Breakfast at Oliver Twist.
"During our general ticket lottery, held every October, we see over 6,000 people trying to get their hands on Half Corked Marathon tickets," says Jennifer Busmann, executive director of Oliver Osoyoos Wine Country, organizers of the race weekend. "We realized how frustrating it is for those who aren't successful in the lottery and so have carved out space to increase our capacity this year and offer 100 extra tickets to allow more friendship groups to come together in our region."
Tickets will be available online (www.oliverosoyoos.com/Tickets) at 9am on Tuesday March 12, until they are all sold. Only one ticket per person permitted. Tickets cost $220 each + applicable taxes.