Soft in Spring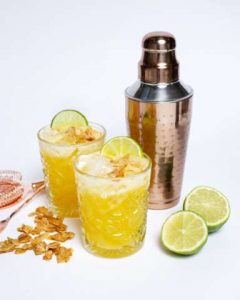 1.5 parts Bombay Sapphire
1 parts Mango Juice or Nectar
.75 parts Coconut Cream
.75 parts Lime juice
.5 parts Honey
2 dashes Angostura bitters
Directions: Shake all ingredients and strain over ice into a rocks glass or blend with ice until smooth. Garnish with toasted coconut shavings.
Melon Mule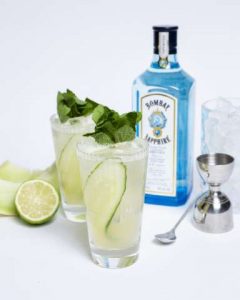 1.5 parts Bombay Sapphire
2 tablespoons Honeydew
2 slices Cucumber
6-8 leaves and one sprig fresh Mint
.5 parts Agave
.75 parts Lime Juice
1.5 parts Ginger Beer
Directions: Muddle the cucumber first and then muddle again with the honeydew. Clap the mint and add it to the tin along with the Bombay Sapphire, agave and lime juice. Strain over ice into a Collins glass and top w ginger beer. Garnish with a cucumber
ribbon and fresh mint.
The Bouquet Toss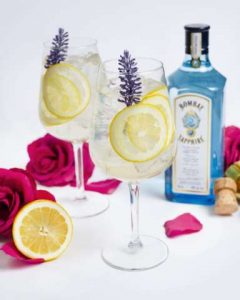 1.5 parts Bombay Sapphire
.5 parts St-Germain
.75 parts Chamomile tea syrup (Mix equal parts Chamomile tea
and sugar)
.75 parts Lemon Juice
1.5. parts Martini Prosecco
Directions: Shaken and served in a wine glass over ice with edible flowers and thinly sliced lemon wheels